Originally published October 21, 2014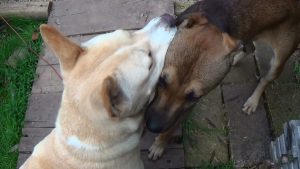 Dogs are by nature, social creatures. Even in the wild, they exist in packs: social units that allow for sharing resources, mutual protection and companionship. For domesticated dogs there are two types of socialization: getting along with other dogs, and getting along with people.
There would be a third type if you want to include dogs getting along with other species of animals. However, taking a dog that has grown up thinking that cats, hamsters chickies, rabbits, ferrets, guinea pigs, birds, (whatever you have) are food and teaching it to see them as a friend is beyond my scope or ability.
The most common socialization problem we see here at Piney Mountain Foster Care is dogs who were neglected. Sometimes this is a dog that was chained in the yard, given enough food and water to survive, but that's about it. No love, no personal care. Blondie was one such dog. When taken in by the Dr. Carol Hood Memorial Animal Shelter, she was so withdrawn and depressed she acted as though she were autistic. More often the problem is a family that decided having a puppy would be fun, but they had no idea how to train it. So the bouncy, happy-go-lucky ball of fur turns into a bouncy, happy-go-lucky dog weighing 30 to 60 pounds and hasn't got a clue how to behave any way other than what has always done: just being its happy-go-lucky self. This proves inconvenient for the family, so they take it to the shelter to be rid or it — or abandon it somewhere to become someone else's problem.