Originally published Feb. 14, 2017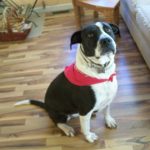 When us dogs talk, most of what we say is not said vocally. Some of what we say comes through body language: the position of our head and body, how we hold our ears, the shape of our eyes, things like that. But some of us are quite expressive vocally as well, even when it comes to communicating with peoples. Many peoples don't understand the unvocalized parts of our communications, so we have to use what they do understand to convey our desires and affections.
Buster is a funny little guy. While he was here, he didn't bark much, but if he was lonely he'd do whale song to get our attention. When he was joyful, he'd get happy feet. He is just full of personality.
Others were not so conversational, but had their own distinctive style of verbal expression. King among these had to be Malachi. He had a unique bark that led HairyFace to poke fun at him with this video: