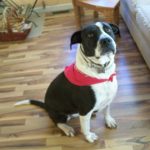 It's a beautiful fall Saturday and we are all enjoying being outside in it as much as we can.
This morning HairyFace loaded the trash and recycling bins into the truck and Blondie and I got excited because we know this means TRUCK RIDE!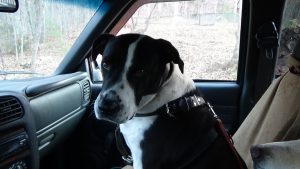 Hairy helped me put my harness on, walked me out and belted me into the shot-gun seat. I always get shot-gun on trash days: that's a rule. Blondie doesn't mind: she prefers the space behind the seats because she can move around and stick her nose out either window.
As he was walking Blondie out to the truck, Tinker was standing off to the side, looking sad.
"What's the matter Tinker?" asked Blondie.