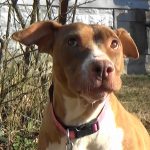 Callie is a sweet, gentle, lovable gal. She is a Staffie mix after all. She gives us almost no trouble at all and so she has earned the right to be a full-time, free-range house dog — except when we leave the property for an extended period of time. But that's not Callie's fault.
Josephine likes to play rowdy. If I'm here I can monitor that and shut it down before anything gets torn up. When I'm not here, she and Blondie sometimes knock into things, moving furniture around a bit, but rarely tear anything up. If Callie gets into the mix, Callie likes to play tug-o-war. Dog beds are handy tug toys because all three can pull on it at once. That leads to tearing. Tearing leads to stuffing poking out. Stuffing poking out gets everyone excited about pulling out all the stuffing. We'll arrive home again to find an "exploded" dog bed. Not good!
So when Marie and I are both going to be gone a while, Callie gets crated. But she doesn't mind.