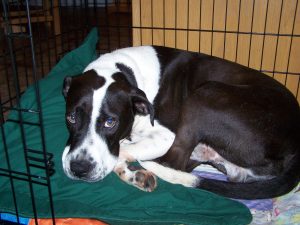 Marie and I are highly involved in the care and rehabilitation of rescue dogs. We foster for local animal shelters and rescues.
Cochise was our very first foster dog. We fell in love with him (who could say 'no' to that face?), and could not let him go. The Shelter calls this "foster failure". It is failure because while it is a win for the dog (who gets a home), and a win for us personally (who get a great dog) it does diminish our foster care capacity by one, thus making us that much less useful or effective to the shelter and their foster care program. Although, in Cochise's case, he more than makes up for that reduction by being a superb mentor and interpreter to the foster dogs.
One of the things that caused us to fall in love with Cochise is that he is a talking dog. Yes, that's right; a talking dog. He does not speak English (French nor Spanish either, for that matter), but he is quite clear in expressing himself, and once we learned to listen to him, we communicate with each other quite well. We do not speak his language — when we try he does that head tilt thing then glares at us — but we don't need to: he has learned enough of our words that he understands us well. In fact sometimes I think he can read my mind because I don't need to even SAY the word "bath" and he's trying to disappear somewhere.