Luna has been something of an enigma since her arrival.  On the one hand, she has been single-minded in her attempts to escape.  She came here because NAC had no place they could humanely confine her.  Once she got here she set about dismantling her kennel.  I finally had to armor plate the inside of her "room" to prevent her getting purchase on the  safety mesh or chain-link with her claws and shredding the former and distorting the latter.  Before I got that done, she actually bent the panel clamps and pulled the door panel into her kennel!
While all this was going on, i was taking her out for leash walks four times a day.  The other dogs are released to run and play in our fenced yard, but Luna's determination to escape causes me to worry that she will just go over a wall as soon as I'm not watching.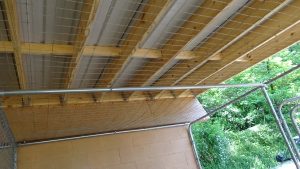 A theory that was verified the first time I put her on a tether so I could clean her kennel.  She wriggled out of her harness and I caught her trying to hop over the wall by our back porch.  Luna is a big girl and Animal Control learned that she could climb out of their 6′ high kennels.  I have a steel net over the top of mine to discourage that.