Originally published Nov. 4th, 2016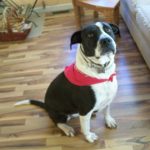 Most dogs like to play. Most of a dogs play is a lighthearted version of real-life skills: chasing, catching, fetching and … fighting.
As long as it's done in the name of good, harmless fun, there is no problem. But if it should slide beyond play: because one "combatant" feels he is losing and doesn't want to, things can get bloody fast.
Breaking up a dog fight is dangerous, especially if there is only one Peoples. It is best to red flag it before play turns to fight.
Signs of Play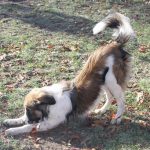 When we're playing, the tails will be swinging happily from side to side, we may bounce side to side or enter a play bow (forelegs and chest on the ground, butt in the air), we may lunge and retreat. When happy, our eyes are open and round, ears are up, and our mouths should be open and "smiling". We may sound like we're about to kill each other, but as long as it's just trash-talking we're okay.
We may wrestle each other to the ground and pin our opponent there. We may leap around and over one another, we may body slam each other, or we may take off and run – incorporating these other moves when we get the opportunity. Biting is okay as long as it's gentle.