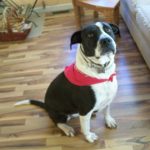 Last night we had a party with special treats and we all talked about what a good boy Volt is. Blondie and I knew what was going on, we've seen this several dozen times now. Often it's no big deal, at least not to me. I'm stoic. But once in a while saying "good-bye" is hard … even for me.
Volt, of course had no clue. He was just happy to get special treats and have so much attention paid to him. I explained it to him after everyone went to bed.
When we got up this morning, Volt went into the den for some morning lovies from HairyFace. Nothing unusual about that. But when Volt reached way up and licked Hairy's face and neck, that was unusual: Volt's not a real kissy-guy. Hairy thought he was saying good-bye, but I knew he was saying, "Don't send me away; this is my home. I like it here." So I had another chat with him.
It's harder for him to understand because he's been here so long. He's gotten settled.