We had a pop-up thunderstorm roll in this morning as we were getting our day started.  It gave advance notice in the form of continuous, distant thunder so I dashed out to feed The Brown Dog Gang and let them run in the yard to relieve themselves before it arrived.  Lennon and Blondie went with me to help.  The rain started just as we were finishing up and getting them back into their kennels.
Blondie trotted up toward the house with her ears down on the sides of her head (her Yoda face) muttering, "It's raining, it's raining, I don't like the rain.  I need to be inside."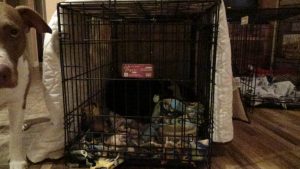 While Marie fixed breakfast, Buddy Beagle cowered in his bunker. He still barked at the thunder — until we had a close lightning strike with it's BIG boomer that rattled the house and the power blinked. Then Buddy admitted defeat and was quiet: curled up in the back of his crate until the storm passed.
Josie hid too. In her own way.  She tried to wiggle in behind the chair, but it had been pushed back to make more room for crates.  She often goes and hides under my desk, but this morning she preferred to be where the Peoples were, so she made do with this corner.