Originally published November 21, 2014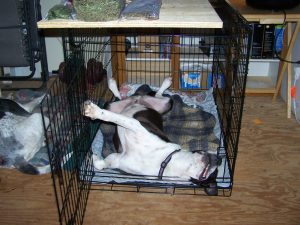 When used properly, crate training provides you and your dog with multiple benefits. For you it provides a simple, effective means of restricting your dog when you cannot provide close supervision. If your dog is an explorer, he may get into things that will harm him. If she's a chewer, your home may suffer from allowing her to roam unsupervised. Crating also helps with housebreaking because a dog has a natural aversion to soiling its own sleeping space.
For your dog crate training offers a safe haven, a room or space of his own. It is a familiar place. Whether you go on the road or just move around a large home, having a place of his own brings your dog a feeling of safety. If your dog is ill or just been spayed or neutered, a familiar crate is quite comforting. A crate is effective in combating separation anxiety or fear of a thunderstorm because of the snug, safe feeling an enclosed crate can provide.