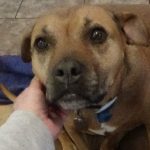 Faithy Lou-Ellen once had a comfortable home where she was spoiled rotten.  We don't know what happened but she ended up wandering the streets of Newport TN to be picked up by Animal Control.  No one came to claim her so Faith came to Piney Mountain Foster for weight loss and socialization.  Click/tap here for Faith's full story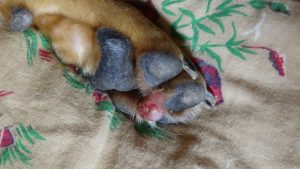 She has done well and is now adoptable except that we found a growth between the pads of her right front foot.  Our veterinarian says the growth needs to be removed surgically.  Because it is ulcerating, that needs to happen SOON.
---
UPDATE
Cedarwood Veterinary Hospital performed the surgery Dec.19th, but we need to raise the funds to pay for it.  The surgery cost $515.  To date we have received $158.00 in funds dedicated to Faith's foot surgery, leaving $357.00 due.  Faith is recovering now and doing well, but we need your help in paying off this medical bill.  Your help is greatly appreciated.

---
Faith is an exceptionally sweet snuggle-bug who just wants a home again … with a sofa.  Faith has been spayed, heartworm tested, is in good health otherwise … she is ready to find a home.
Won't you help us help Faith?
PMFC is a 501(c)(3) Charity
If you'd rather mail a check, send it to:
Piney Mountain Foster Care,
1198 Piney Mountain Rd, Newport TN, 37821
Please mention that it's for Faith's surgery.