This fund raising campaign centers around
healthy, home made, peanut butter, dog treats
These treats use certified non-GMO whole wheat flour, xylitol-free peanut butter, milk, egg, and baking powder to make a scrumptious snack for your canine companion. These are human-grade foodstuffs and are prepared in a sanitary environment. So if you want to see what's got your dog so excited, go ahead and try one. Just remember your palate is accustomed to more seasonings than theirs is, so you will think them rather bland.
Where are these found?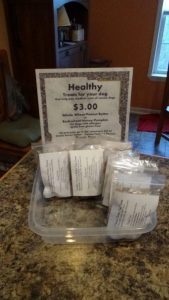 These treats are always available at:
I can meet you to deliver locally. You may pay at delivery. Please bring cash.
Now available for mail-order (see below).
Packaging
New is a bulk-pack of 40 Big Dog Bones, or 70 Big Dog Hearts or 200 Regular treats for a donation of $12.00 per box. These boxes are the equivalent of 5 bags of treats for the price of four.
The standard package is a resealable food-safe plastic pouch that contains your choice of 40 regular size dog treats (7/8″ diameter) or 14 of the Medium Dog Heart treats or 8 bone shaped Big Dog Treats. These are a $3.00 donation per package.
| | | |
| --- | --- | --- |
| Regular size treats are great for smaller dogs or training treats for big dogs. | Great for medium size dogs or large dogs who get frequent treats. | For BIG dogs who scoff at most treats for being not worth their efforts. |
Delivering / Shipping Dog Treats
We are now willing to ship bulk packs or groups of 6 pouches (great if several people are splitting an order).
The shipping cost for one order is generally $8.25 to $9.00 for USPS 3-day Priority.  Exact cost varies according to your distance from East Tennessee and the vagaries of the USPS.
For local delivery, please contact me directly to place your order and pay with cash upon delivery. If you prefer to pay with a credit card, use the button below, and tell me in the NOTES space at check-out that you are LOCAL and give me a phone or e-mail address to contact you for delivery.
CONTACTS:
E-Mail Doug@PineyMountainFoster.org
Mail your order and a check to Piney Mountain Foster Care, 1198 Piney Mountain Rd, Newport TN 37821
Ordering
E-mail or FB Msg me (see above) to tell me what you want to order and your shipping address. I'll make them up fresh for you and get back to you with the cost (including the shipping). You can then use your PayPal account Send Money function to send the total amount to PayPal User ID:  Marie@PineyMountainFoster.org
If you want to use a credit card and don't have PayPal,
use this button once you know the amount
or to be generous.
Want to help
save lives?
If you enjoy our updates, Doggy Tales, and educational articles consider subscribing for notices when new pieces are posted. It's painless and you can unsubscribe any time you want. Your e-mail address is used ONLY to deliver these notices.