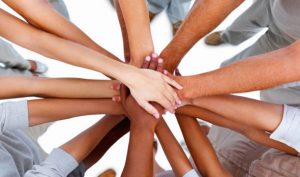 Giving to charity does not have to be in the form of money or goods.  You can give of your time, if that's what you have available to give.
NOTE: Until we obtain liability insurance suitable for this purpose, we dare not invite people to come work here.  Once we can afford that, the following will apply…
The Benefits
You will not get a tax deduction by donating time and effort, but you will get the satisfaction of having helped in a substantial way.  Being a 510(c)(3) charity, hours worked at Piney Mountain Foster DO qualify as community service for the TN Promise Scholarship.  Your service hours can be tracked through TN Achieves
PMFC benefits doubly because not only do you help us with our projects, but your hours count as a public donation to us which helps maintain our 501(c)(3) status (Public Charities have to prove to the IRS that the public supports them or they lose their charity status).
The Projects
Opportunities to help range from socializing the dogs through play and grooming to general cleaning and maintenance of the facility and play yard, to the occasional major construction project.  Specific needs at the moment include:
We always have a need for help in socializing the dogs.  Often, this is just spending some time with a dog, petting, playing, brushing.  Sometimes I need help socializing one dog with other dogs, this requires two people strong enough to control their dog with a leash so that they can be separated if the encounter does not go well.
Help in keeping up the kennels and property is always welcome.  Much of this is yard work.  Some is general sprucing up of the buildings.  The kennels get cleaned several times a day.
Previous construction (and deconstruction) projects have left some materials set aside for clean-up later.  It's later.
We are accumulating funds to finish the interior of our kennel building.  When funds for materials are available, we will be re-doing the electrical wiring, putting insulation in the roof, installing ceiling board, installing lighting and heat, building concrete block divider walls, with chain link doors.  Things like adding some basic plumbing are on the wish list, but will depend on whether sufficient funding is achieved.
We need to cut through the end wall of the mobile home that serves as our workshop/storage/dog bunkhouse and install an exterior door (and a small porch roof) to allow access to the bunkhouse from the play yard.
The bunkhouse roof is rusting and staining the siding.  We need to fix or replace the roofing and clean or paint the siding.
The Value
Labor provided without charge to a non-profit is counted as a donation.  The value and usefulness of that donation may surprise you.  There are two types of in-kind labor donations:
In-kind Services (GAAP)
Services provided by someone with a specialized skill, such as an architect or a doctor, or the services create or enhance a nonfinancial asset, such as a handyman who donates services to install cabinets.  The value of donated services is based on the fees the service provider would

normally

charge for similar work.
In-kind Services (Non-GAAP)
Many kinds of services are performed for nonprofits that don't rise to the GAAP standards of a specialized skill or enhancing a nonfinancial asset. For example drivers of transport vehicles and trainers for dogs are important, but are not valued for purposes of audited financial statements. In these cases, we value them based on the Independent Sector's rates for volunteer labor. This information is useful for grant applications.  And the value of this may surprise you!