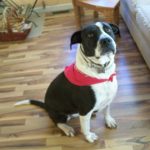 My posse and I welcomed a new foster dog Thursday, Nov. 3rd: Fido Steele.
He's got the feet of an Australian Shepherd, the head of a Terrier, the body of a hound and the curly tail of a husky (except with short fur), the voice of a Beagle, the mannerisms of a greyhound, and the temperament of a sweet dog. He's an active fellow. And conversational. We had a pretty rough night the first night trying to get him to HUSH! But that's not unusual for a new dog: this is all new and different to him. He was doing much better by the morning of the second day than he had the previous afternoon.
At this point we know nothing about his history except that he was in the care of another foster family who do not have the room he needs to run. They thought he'd do better here.
For some reason, the Peoples always think that as soon as they let a dog who has been confined for too long loose into the big play yard, they will go nuts and run and jump in jubilation. They almost never do. Fido was no different. His first session in the yard was spent (as is usual) entirely on wandering around sniffing everything. And with four other dogs in residence, there is plenty to sniff! Then came introductions.