This is a foster dog diary post. New information about Ilo will be added to the end of this post so all info on this dog is in one place and in chronological order.
Post last updated: April 10, 2017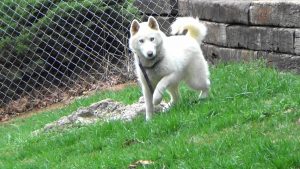 Ilo arrived March 7th. That name is spelled eye – ell – oh, and pronounced "Ee-low". Ilo is a white Husky with blue eyes, he is around 1 year old and weighs (guessing here) around 50 pounds. He appears to be in good health.
Ilo's History
Ilo was adopted locally as a puppy. He spent most of his life on a chain in the yard. He didn't even have a collar: they just wrapped the chain around his neck and fastened it. As a result he has a gray band around his neck that will be difficult to remove. In time, that hair will shed out, so it will go away. Eventually.
One of our rescue families talked that family into surrendering him. Ilo is here for evaluation and training. His shots are current. He will be heartworm tested when he goes in for neutering on the 17th.
NOTE: That test came back negative, so he is now on a HW preventative to keep him safe.