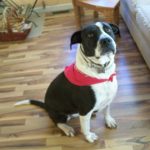 Sylvia is a Shar Pei mix. Shar Peis have a reputation for belligerence if not handled properly. Add to that a history of having come from a hoarding situation. She came into rescue and foster care as a scared, confused dog. Her first foster home helped her get past the fear and some of her aggression.
When she started visiting here, she would wander our play yard with a mixture of us dogs in the yard with her, and she was fine with all of us. She basically just ignored us as she went about sniffing and peeing on everything.
When she moved in to live here and got settled, she started thinking of this less as a park and more as home — and she got a bit territorial. But, Blondie Bear was the only one she really had any issue with — and we never figured out why. Blondie IS a mentor and Play Yard Trainer, but is the sweetest, most gentle girl you could ever meet.
But Sylvia started out with some dominance challenges: