Yesterday I was treated to a new experience. I tried flying. Unfortunately I had no wings and the landing was poor. Let me explain…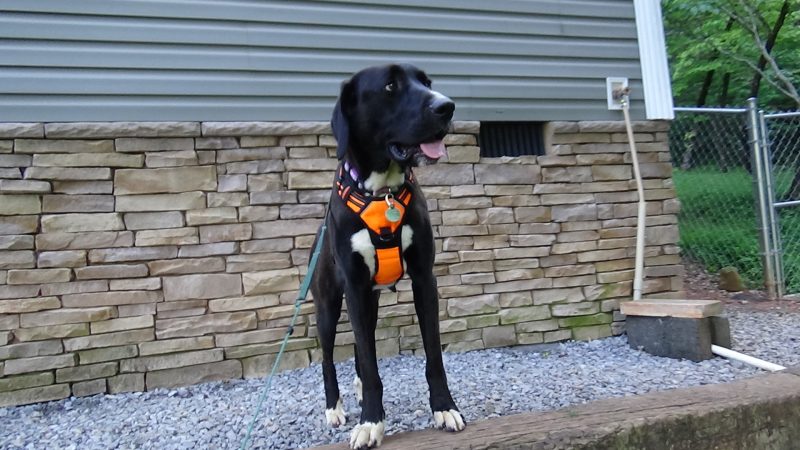 We have a foster dog named Luna, who is a Black Lab-Great Dane mix.  She's almost 70 pounds now (will be 80 to 85 at proper body weight) and quite strong.  I've been taking Luna out of the yard and along the edges of the woods to cater to her "need" to potty in the underbrush. Someone (probably someone with children) has trained her not to defile the family play yard.  But the increasing number of Feral cats around here has made that problematic because her need to chase cats has smashed me into more than one tree as she takes off suddenly after spotting a fur-blur in the woods.
She spent Friday in her kennel because every time I took her out to potty she got distracted by tracking a cat and forgot why we were out there. Having done nothing towards emptying out made her dangerous to take in the house. Although she did nothing in her kennel, either: this girl can really hold it!  But she had to be getting uncomfortable.
Saturday I resolved that we would stay in the yard and she would learn to use that, like all the other dogs. Late in the morning I had her out on her 20 foot lead – believing that if I wasn't hovering over her on a 6 foot lead, she'd be more likely to avail herself of the grass. We walked around and around the yard with no results. At one point we were standing on the walkway beside the house, looking out over the play yard and the other dogs playing in the yard.  Something (probably one of those Feral cats) aroused the attentions of the other dogs and they went charging across the yard to investigate.
Luna decided to join them.
Had I had her on a 6' lead I'd probably have been able to stop that charge with nothing more than a painful jerk to my arm. But because she was on a 20 foot lead and I was unprepared, she hit the ground running and had both traction and momentum on her side. She jerked me clean off the walkway, I went heels over head crashing to the slope below the walkway, landing on my right shoulder and the back of my neck. I did at least one complete rolling somersault down that slope before thinking to flatten out to stop that roll. Had I not thought to do that I might have continued rolling down the slope like an old tire.  I came to rest flat on my back about 25 feet from my starting position, Luna still trying to tow me out into the yard.
I laid there for a few moments, unable to move at first, then slowly, carefully wiggled things to be sure all the parts were still connected and nothing was broken. There was a good deal of pain, but everything seemed to be in working order, so I slowly got to my feet and put Luna in her kennel.
My right shoulder and neck hurt A LOT, and continued to do so that whole day. In fact I could not move the shoulder of my coffee drinking arm at all without intense pain. Everything I did the rest of the day was done via elbow and wrist alone.
Normally day two and day three of an injury are actually MORE painful than day one, so I was not looking forward to Sunday. But, probably because I launched into an aggressive campaign of anti-inflammatory pain killers immediately after the injury, I'm actually feeling better this morning. I am able to get my arm up on my desk to type, at least. So I think I'm going to be okay. And I am really grateful that I didn't land any more on my neck than I did, because that could have resulted in life altering injury. They say God watches over saints and fools, so "Thank you God for watching out for this old fool."
Oh, and Luna and I wandered the yard (on a SHORT lead) for a looong time last night, with her going from gate, to gate, to gate, until she finally relented and "did her business" in the yard. There is hope I'll get that penchant worked out of her yet.