Home Page | Writings Index
Workshop Tour
By: Doug Bittinger - August 24, 2009
We do occasionally have people come and want a tour of our shop. Sometimes they are prospective customers, but mostly they are fellow woodworkers who found our web site and wanted to see where we create all those pretty things. In all honesty, most of the time we think they leave disappointed in what they found here. Perhaps they were expecting one of those showcase shops that well-off hobbyists tend to build or more of a factory environment with huge equipment and a large commercial building. Our workshop is neither of these. Quite the opposite in fact, as you will see.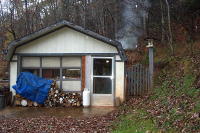 But first, a little history. We moved here from St. Louis MO. in December of 1999. This place was not at all what we were looking for but God stepped in, changed our plans and we purchased this property: almost 5 acres of sloping, wooded mountainside with about 1 acre cleared. It had a nice 16x77 mobile home, a cinder-block garage that was wired and lighted as a workshop, and a good well and septic system in place. We moved in thinking that we'd live in the mobile home for a year or so while we prepared a spot to build a real house, then sell the mobile home, pour a slab and erect a large steel building adjacent to the garage for use as a workshop. It did not work out that way.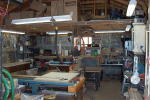 It wasn't until 2007 that we got to build our house, during those six years we were working out of the cinder block shop the size of a 1½ car garage. It was snug. No, it was very snug and it had no insulation at all so it was very cold in winter and hot in summer. We didn't want to put money into improving the garage because we were always convinced that building our house was just around the corner and insulating the garage would just be a waste of financial resources. But things just kept happening to delay that. Once we were finally moved out of the mobile home we found we would not be able to get what we had hoped for by selling it, not nearly enough to cover the now much inflated price of pouring a large reinforced concrete slab and buying a 1200 Sq.Ft. steel building. So, we decided to recycle what we had, and convert the mobile home into our new 1232 Sq.Ft. workshop. And it really has worked out very well.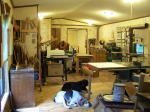 Because the mobile home featured a very spacious, open floor plan where the living room, kitchen and dining area were all one large space, we didn't have to risk weakening it by tearing out any walls at all. The kitchen/dining area was raised up above the rest of the floor and featured oak flooring to provide a visual "separation" between spaces. To convert this area to a machine tool room only required removing the carpeting in the former living room and building a raised floor to level things up and removing the appliances and most of the cabinetry from the kitchen. This tool room alone is larger than our entire garage workshop! And the new shop is insulated, has central heat and air conditioning, wooden floors instead of concrete, and it never floods out in heavy rains like the old one did.
There is a door on either side of the tool room, a large door exiting to a long porch and a standard door on the opposite side leading to a long drop to the ground. That is a fire exit only for now. One day we'd like to add a room on there to serve as a showroom where we can display a few pieces of our work for visitors.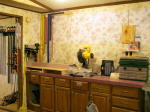 Just inside the main door where we bring lumber in from the stacks outside is a miter saw station. I built it atop the old buffet counter, and cut a hole in the stub-wall at the left end to allow long boards to poke through into the assembly room. The tool box on the right end sits back behind the path of boards sitting on the chop saw bed. We use this for breaking down long boards into more manageable pieces after laying them out for parts. Of course we can also use it to cut miters on the ends of parts.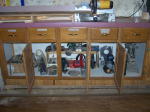 The drawers and cabinets under the chop saw are used for tool storage. Common hand tools are in the drawers and my small power tools in the cabinets below. All are easily accessible, convenient to my workbench, yet out of the way and protected from collecting airborne dust.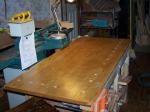 Across the aisle from the chop saw is my workbench. I built it myself; it's ugly but it is heavy and very stable. It has a side vice and an end vice, both have bench dog holes bored in the top to allow me to secure a board for planing, sanding, chiseling or whatever. I use the space underneath to store short cut-offs; by keeping them where I can easily grab them when needed i find I actually use them. If they were out in the lumber shed I would not make the effort to go out and look through them nearly as much. An island used to be mounted here, and I kept the electrical wiring that came up through the floor intact, ran it up inside one leg of the bench and mounted the outlet on the bench so we have easy access to power for the lamp and small power tools. The drawers and cabinets under the chop saw station store hand tools and measuring devices. Long measuring devices hang above the counter at the end next to the pass-through hole.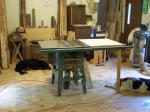 Our ancient table saw sits in the middle of the far end of the tool room, giving me enough space all around to work with lumber. Setting it on the raised deck portion of the room allowed me to run a 4" dust collection pipe under the floor so it is never in the way as we cut lumber or even sheet stock. It's old, but still very solid and reliable.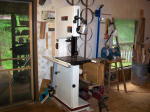 Our big band saw (16") sits on the opposite side of the main door from the chop saw. Bands and jigs hang on the wall behind it. This saw has enough throat height and power to resaw 10" wide hardwood boards, yet by mounting a thin, fine tooth blade we can also do delicate scroll work.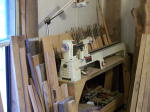 On the same wall, past the window next to the bandsaw, tucked up in the corner of the tool room is our stretched midi lathe. We don't do a lot of turning anymore, so we've never seen the value in buying a bigger lathe. In fact, this lathe is the one I used to turn the 75 inch tall bed posts for the Kiana bed. It had plenty of muscle for that job, I just needed to get clever about making the posts in sections. The lathe sits on a rolling stand of my own design that also has a rack to keep our turning tools at hand, and a shelf under for fixtures and accessories. Right now, left-over lumber from past projects is encroaching on it's workspace, I need to get that stuff hauled back out to the lumber stacks.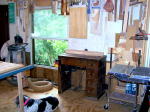 Across the room from these two tools is our home made router table -- made from an antique mahogany sewing machine cabinet. It about broke my heart to go cutting up such a lovely piece of furniture, but Marie said she had no room for it in the house, they were "a dime a dozen" so she would get nothing from trying to sell it and if I had no use for it she was going to haul it off to the dump. So I converted it for use with a 3¼ HP Triton plunge router. We can tip up the left leaf for easy access to the router if needed, but because this router features above the table bit changes, and depth adjustments are unusually easy to accomplish, we rarely have to lift the top. The drawers offer storage for accessories, bits store in the cabinet and on hooks on the wall behind the table. You can also see some of the jigs and templates we have hanging along the walls, anything we expect to make again gets templates and jigs made up so it will be easier next time.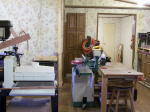 Just around the stub wall from the router table is our 16/32 wide drum sander. This is an invaluable tool for smoothing and surfacing wide panels, but we've found many other uses for it as well. Like most everything in this shop, it is mounted on lockable casters so it can be moved around if needed, but it also has a place where it "lives" most of the time. The "crutch" sticking out above is a support arm for a 4" dust collection hose that is plugged into the top of the sander whenever it is being used.
Also in this shot, sitting along the back side of our workbench is our 8" x 76" jointer. This was our first adventure into Grizzly tools. For years I'd have nothing to do with them because of their poor reputation. But recently The tool reviews in the woodworking magazines have started giving them passing marks. Then, when the smaller brother of this jointer took a major magazine's "Top Tool" award, we decided it was time to give them a try. This 8" is a scaled up version of the tool that got the award, and we've been very happy with it. Of course I'd have been just as happy with a Powermatic, but it would have cost us 3 time as much!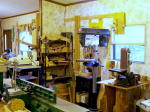 The 16/32 drum sander is actually the start of our "Sanding Area" which includes a stationary belt sander and our drill press that can be fitted with a wide variety of sanding drums and wheels. I've even built a special table for the DP that allows sanding dust to be pulled out the bottom by our shop vac. In this position, the drill press is also very handy for use in parts making; either drilling holes or when fitted as a mortising machine. Space is reserved next to the stationary belt sander for an oscillating spindle sander, which will be our next tool purchase. At the opposite end from the 16/32 sander is a spot reserved for a stand-alone mortising machine, which probably WILL be a Powermatic.
As we walk around the end of the work bench, back toward the chop saw, a series of cabinets are mounted in the wall to our left, these contain an assortment of odds and ends that don't go anywhere else, including a crock pot for cooking hide glue, a tea kettle for making steam, a stock pot for boiling small parts and an assortment of dust collection pipe cut-offs. And that does it for the tool room.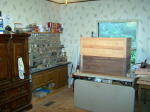 Through the large doorway that used to be double doors into the master bedroom, we go into the assembly room. This is essentially an empty room most of the time. We keep several folding tables in here so we can configure it to our needs depending on what we are building. Another fixed workbench would be great when were working on small stuff, but when we're assembling something like Blake's large curio cabinet of Jeff's monster bed, we need every inch of floor space available. Hardware is all in a bin system and peg hooks on one wall. A large cabinet stores supplies and tools next to that and an assortment of roller dollies are kept in here to assist in moving large pieces around.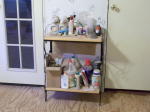 In one corner of the assembly room is a small table where we store all our glues and adhesives, also a small cordless screw driver that is used in the assembly process.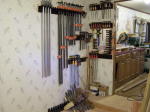 In the opposite corner are our clamp racks. Woodworkers never have enough clamps, so we bought extra racks that can be put up as the need arises, but this is a pretty good collection and serves most of our needs. Putting them here makes them easily accessible from the tool room too, when we need a clamp or two to help hold things in place on one of the tools or the workbench. The wall space between the gluing station and the clamp racks is deliberately left empty as a place where we can hang plain white flat bed sheets as a back ground for taking photos of our work. Eventually we'll paint over the girly wallpaper with a matte white paint, then we should not need the sheets any more.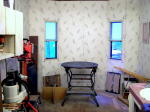 On through the glass double doors into what was the master bath and is now the finishing room. This is the first time EVER that I've had a finishing room that could be closed off and kept clean even while woodworking was going on in the rest of the shop. The 36" spinner atop the folding workbench can be removed and fitted with the cross-base sitting next to the workbench for working with taller pieces. When not needed the base parts can be separated and laid flat against a wall. I've also built a number of special drying fixtures to help in holding odd things while they are being finished, at the right side of the photo is a rack I built to hold about 20 pair of bag handles while they're being oiled. This room is at the very back end of the mobile home.
Way at the other end a short hallway leads off the tool room, past the restroom to our office / lounge. The office space is minimal; just a desk, a couple of chairs and a file cabinet. But from here we administer the business, correspond with customers and design our creations. This computer is the nerve center of our computer network, three others are connected either through Ethernet cabling or wireless connection to provide communications access in the other buildings on our property.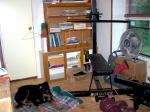 What we laughingly call our Employee Lounge is the other end of the room and consists of a low cabinet holding a mini-fridge and coffee maker, a couple of book cases holding reference books and magazines, a Solo-flex machine to help keep the flab off and working off frustration when we find we've cut a board three times and it's STILL too short, and of course a soft spot for our "employees" Dolly and Zadie to nap. It is rarely vacant.
If we go out the main door we'll find a long, narrow side porch which is currently being used to store all manner of unsightly stuff and we really ought to find someplace else to put it or get rid of it, but we have no place else for it to go and it's not junk so we don't want o get rid of it. So, we've become hillbillies... at least we don't have a sofa out there!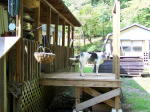 I've also added a loading dock off the porch straight out from the doors. This allows us to roll furniture on dollys out the doors and into our truck. Speaking of dolly's, Dolly likes to guide us as we back the truck in to the dock for loading. The plan is to build a roof over the dock, and supportive framing is in place, but the roof is not, as yet.
When we buy a truck load of lumber it comes to us as fresh sawn planks that we must sticker-stack on a rack so that air can flow all around each board and allow it to dry evenly. Here Doug has just finished racking 900 board feet of fresh sawn Cherry lumber. It will take between one and two years before this lumber is ready to use.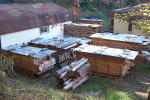 In order to supply our needs while the new lumber dries, we must keep many stacks of lumber available. We normally stock 8 species of wood, to keep from having to continually re-stack the older wood on top of the new wood, we try to buy enough to make a new stack with each delivery. We want to get all of this under a roof eventually so we don't have to mess with the tin roofing panels every time we pull lumber.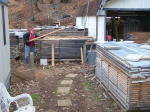 Selecting lumber for a project is enough of a chore without having to deal with rain or snow and wind as well. Lifting the tin sheets off in any kind of wind can prove disastrous; they'll take your head off quite easily.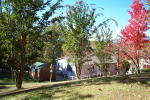 That takes care of the business end of things, but also in our little compound are several more buildings. This one is the house we put in during 2001 so we could move my Mom and Step-Dad out here from Nebraska. They were getting to where they needed some help, we didn't want to go live in Nebraska, so we brought them here. It was quite an adjustment for them at first, but they're glad they did now. The little barn was put in about the same time as storage for lawn care equipment and overflow storage for Mom.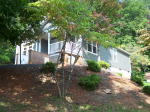 In 2007 we finally got to build a house for ourselves; a cozy bungalow. It isn't big or ornate; we tend to be non-traditional about home purchasing in that every time we've moved, it's been into SMALLER not larger quarters. Less to clean, less to maintain, less space to collect unneeded stuff, and as we get older that will surely be more and more of a blessing. Besides, what we did not spend on more square footage we put into improved insulation and better construction. Our utility bills are much lower than the average. When this photo was taken the front steps were still a work in progress. But I guess as homeowners, we're never truly DONE with a house.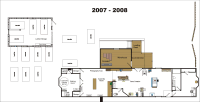 Here is a floor plan drawing of our shop to help you envision where things are in relation to one another. Click the thumbnail picture to get the big one.
And that, dear readers is a whirlwind tour of our humble "place". Like I said, it isn't fancy, but it's ours, it's comfortable, and it's a great place to work and live.
* * * * *