Woodworker Wanderings
By: Doug Bittinger
© Aug. 2000
This month we take a look at something I doubt you'll find anywhere else in the country: WOODEN SHOES!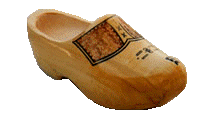 The DeKlomp Wooden Shoe Factory is an offshoot of the Veldheer Tulip Gardens at 12755 Quincy St.(Route 31) in Holland Michigan. Self-guided tours of the factory are free, fun and informational.
First, the obvious question -- Why did Dutch people decide to wear wooden shoes?
In the Netherlands, people have worn wooden shoes for more than 500 years because leather was very expensive and did not hold up when subjected to water and salt -- two things in abundance in the marshy lowlands that comprise much of the Netherlands. The Dutch wanted a shoe that was economical and durable, yet comfortable. The wooden shoe fit that description. In the summer they allow air to circulate and keep your feet cool and sweat free, in the winter they are warm -- if extra cold out, over sized shoes were stuffed with hay for additional warmth. Even today you can see people in the fields, in their gardens, and in their yards wearing wooden shoes. Dutch farmers and people working in nurseries consider clogs part of their industrial clothing.
Originally clogs were made by farmers for their own use. This is not to say that they were poorly made. Quite the contrary. Because a well made pair of clogs would last a long time, and were made for one's family and loved ones, they were generally finely made. Those worn as work shoes were never painted. At the end of the week, the "work shoes" were scrubbed with sand and set aside. Only on Sunday were the ornately painted and varnished clogs worn.
The wooden shoe,or clog, begins as a disk of green Poplar which is split into 6 or 8 wedges,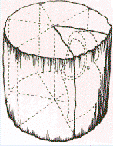 depending on the size of the trunk. These wedges are then roughed into that distinctive 'Dutch shoe' shape. Then the inside is scooped out. The inside is scraped smooth and to final shape, then the outside is given it's shape and scraped or sanded smooth. They can then be decorated with hand carved and painted designs, or left plain. Some are finished with two coats of varnish, after they are thoroughly dried, or they can be left natural.
Naturally, the clogs were originally hand carved, inside and out, but as demand for them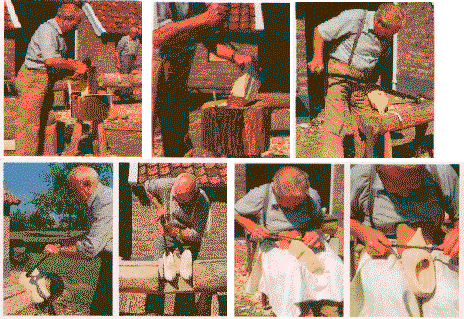 increased and the burden of producing them shifted from farmer to professional artisan, the time required to hollow and smooth the insides necessitated adopting more modern methods once the machine age came about.
The machinery used to produce clogs was brought to the DeKlomp factory from the Netherlands, and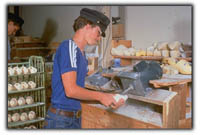 employs the same design as has been used since the original Dutch immigrants settled here in 1847. It's now powered by electric motors, not steam, water wheels or wind, but the design is basically the same. No computers, or mass production style turret grinders are used at the DeKlomp factory; each shoe is individually crafted by a skilled workman. This one is using a drilling machine (similar to a huge Dremel Tool) to hollow out the inside of a shoe. A task that would take two hours or more if done with knives, scrapers and gouges, is completed in a matter of minutes. Then it's taken to a special sander that smooths the inside from toe to heel.
And, yes, you can buy a pair of wooden shoes. They are available in sizes from a child 3-4 to an adult 14 and range in price from $9.00 to about $30.00. There are even sizes to fit Barbie dolls® and Cabbage Patch Kids®!
You may have to try on a few pair before you find one that is just right, but they are surprisingly comfortable once you do.
Now, for those who have no interest in seeing the factory and it's fascinating machinery, Veldheer's exhibits a beautiful flower display. Each spring millions of tulips bloom in brilliant color amid a setting of windmills, drawbridges, and canals. The summer gardens are ablaze with acres of peonies, daylilies, iris, Dutch lilies and more.
Or you can visit the only Delftware factory in America: DeKlomp! Chat with the artists as they mold, handpaint and glaze delftware in the traditional manner. And browse through their gift shop all year long.
So if you're looking for something different, take a drive to Holland Michigan and spend a day exploring the heritage and craftsmanship of wooden shoes.
Till next time!