Woodworker Wanderings
By: Doug Bittinger
© July 2000
Furniture Alley
Whether your interest in furniture is the history and development of home furnishings, the joinery and shaping skills involved in making fine furniture, or simply shopping for furnishings for your home, a trip down &quotFurniture Alley&quot in North Carolina will have something for you. Furniture Alley is an area running along Interstate 40 from Hickory to Durham, and includes such notable towns as High Point, Burlington and Thomasville NC.
The entire area participates in the International Home Furnishings Market, held each April and October. This is the largest event of it's kind in the world, and a major event in the retail furniture industry. It brings manufacturers and buyers together to show off the new lines and offer some great deals. However, most of these deals are offered to wholesale buyers only.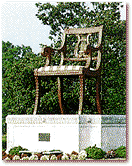 Thomasville is home of the Worlds Largest Chair, a 30 foot high reproduction of a Duncan Phyfe designed dining chair. It is made of solid wooden timbers, and all joinery and detailing is true to life. This chair is the focal point of a small park in the center of Thomasville. This town offers many attractions for furniture shoppers, including the Thomasville Furniture Industries outlet store.
For the history buff, Thomasville is one of the most respected names in the furniture industry. Founded in 1904, the Thomasville Chair Company was just one of many chair manufacturers scattered throughout North Carolina. It turned out 180 chairs a day and owed two local timber farmers, T.J. and his brother C.F. Finch, $2,000 for lumber. When the company couldn't pay its debt in cash, the Finch brothers reluctantly accepted stock instead.
Seeing potential in this venture they decided to buy out the other stockholders. Business improved immediately under the astute guidance of the Finch family with sales topping $1 million by 1917 and the company becoming recognized for innovations in design as well as manufacturing quality.
In 1941, Thomasville Chair Co. went to war along with the rest of the country, making items needed by the federal government: double-decker bunk beds for the Army, wooden plugs for bombs, tent stakes, wooden spatulas and rolling pins. And with 597 company men serving in the war, the first group of women reported for work in March of 1942.
During the 1950's, sales reached $17 million, many innovations in machinery were made and the company's reputation for crafting quality furniture grew. In the '60s, the company (under the direction of Tom A. Finch) received a new name, Thomasville Furniture Industries, Inc. In the 70's, Thomasville entered the contract market, providing furnishings for hotels and inns, primarily in the United States. In 1984, they expanded into Government sales, and their products can be found in military facilities worldwide.
Today, Thomasville Furniture Industries is a full-line furniture manufacturer with dedicated galleries in more than 400 leading independent retail furniture stores and almost 100 Thomasville Home Furnishing stores which carry only Thomasville products.
If you like festivity it's hard to beat Thomasville's annual Everybody's Day Festival. Held the last Saturday of September each year since 1908, this is North Carolina's oldest festival. &nbsp In 1999 it drew 50,000 people from all across the nation. It offers rides, games, story telling, magicians, clowns and jugglers for the kids and 5 stages of continuous live shows and music from all walks of life and plenty of food for everyone. Or maybe I should say everybody.
Just up the road is High Point NC, hub of America's furniture manufacturing industry and home to the Furniture Discovery Center.
The Discovery Center -- at 101 West Green St. -- is a unique museum which simulates a

modern furniture factory, illustrating how furniture is manufactured. Displays depict all stages of furniture production from design to finishing. You can learn how furniture is designed and built from the raw lumber to the assembly line. Discover how wood veneers are made and used in the production of furniture. See how textiles are designed and made into upholstery fabrics. You are invited to immerse yourself in interactive and hands-on displays including real pneumatic assembly tools and computer-aided furniture design, and games and challenges such as "What Wood You Guess" a wood-identifying game. Take the Ergonomics Challenge to see how closely you measure up to the "average" American on which furniture size is determined. Children are enchanted in the forest conservation area by Harvey Hardwood, a 500-pound talking red oak tree. The whole family will have fun learning everything you ever wanted to know about furniture and how it's made. A must see for the furniture afficianados among us.
Also in High Point is the Furniture Library. Established in 1970 it houses the world's largest and most comprehensive collection of books on the history of furniture. From the tombs of ancient Egypt to the palaces of Renaissance Europe, from the Buddhist temples to Bauhaus architecture. Over 7,000 volumes collected during some 60 years are valued at well over a million dollars, and to the furniture connoisseur, they are priceless. The collection encompasess all significant volumes published since 1640 and includes America's only complete collection of the original works of 18th century furniture masters Chippendale, Sheraton and Hepplewhite, as well as a complete set of Diderot's Encyclopedia. While it was originally conceived as a working center for design research, The Furniture Library is today the focal point for a range of activities and a memorable stop for anyone fascinated by furniture design.
While the wood workers among us delve into these aspects of High Point, there are other attractions for the rest of the family.
The Angela Peterson Doll and Miniature Museum features over 1,700 dolls, costumes and miniatures; the lifelong collection of one woman and the South's largest doll museum.
The Mendenhall Plantation is a restored early 19th century Quaker plantation, listed on the Historic Register, that was involved in and supportive of the abolitionist movement during the Civil War. The displays include one of the two remaining false bottom wagons used to transport slaves to freedom.
The Worlds Largest Chest of Drawers. This building at 508 N. Hamilton St. is shaped like a beautiful 18th century chest of drawers -- but four stories tall. It was built in 1926 to call attention to High Point as the Home Furnishing's Capital of the World. Today it is home to the High Point Jaycees.
North Carolina Shakespeare Festival. Headquartered in the High Point Theatre, their season runs from August through October with a special performance of Dicken's A Christmas Carol in December.
Furniture shopping! High Point is home to over 70 retail furniture outlets. Every imaginable style can be found here, so if your plans include shopping for new furnishings... bring a truck!
The area also boasts great golf and lake recreation opportunities and camping.

Other cities to visit are Charlotte, Burlington, Hickory and Winston-Salem. I don't have space to tell you about these this time, but let me just say that if you're interested in furniture, whether it's the history and design, the woodworking and joinery, or just the buying of it, Furniture Alley holds enough to keep you busy and fascinated for at least a week.

Till next time...