Woodworker Wanderings
By: Doug Bittinger
© Oct. 2000
I love this time of year. The days are cooler (a blessed relief for those of us who do not have air conditioned workshops) the grass grows more slowly, and there is a hint of expectation in the air.
As the leaves begin to turn colors, my wife and I like to make outings to our favorite scenic spots. One of those is my feature for this month. While it does not involve woodworking as a trade, it does take us into the woods. When one spends his day making beautiful things out of lumber, one can forget just how beautiful something as simple as a tree can be. If you live in an area that offers deciduous trees and fall temperatures (most of the country does) take a couple of hours and drive out into the country sometime during the next few weeks, find a stand of trees and enjoy the show that nature puts on for us.
Today we visit Giant City State Park, which is 12 miles south of Carbondale Illinois on Route 51. Admission to the park is free and it offers a variety of things to see and do. There is a small lodge, and cabins as well as campgrounds if you plan to stay for a day or two and see it all. There are a number of Nature Trails, accommodating both hikers and horse back riders. Rock climbing, fishing, boating and hunting are also offered.

As you drive into the park, you will go a fair way before seeing any signs directing you to the various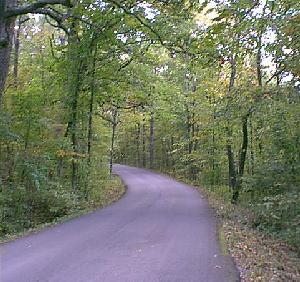 features, but see them you will. Mind the sign that warns you of extreme danger if you drive carelessly. There are no guard rails to impede the view along the narrow, winding road and in places the roadside drops off almost straight down for several stories. Start your tour with a stop at the Visitors Center.
The visitors Center offers printed maps of the park, and a variety of leaflets that describe the various features to be found. There are also displays that describe the various wildlife that lives in the park, as well as some that used to live in the area, but no longer exist. Live presentations are also offered. The day we were there, a young ranger was very eager to give a presentation on local snakes, including live samples. He was having trouble finding any takers.
In 1936 the Civilian Conservation Corps completed construction of a lodge and 12 overnight cabins,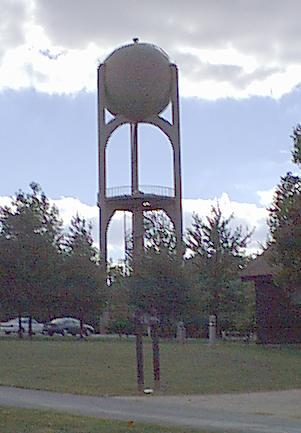 perched atop the highest point in what is now a 4000 acre park and accompanying 110 acre nature preserve. These have have been remodeled and updated recently, but great care was taken to preserve the multi-hued sandstone and massive white oak timbers used in the original construction. Also added was a 100,000 gallon water tower which doubles as an observation platform taking visitors an additional 50 feet up for an exceptional view of the park. The lodge also features a gift shop, cocktail lounge, sheltered swimming pool and a children's pool. The Class A campgrounds offer electricity, water, showers and, well, sanitary facilities. A Class C campground is available for youth groups, a special camp area is available for equestrian campers and their mounts. And for those who want to really rough it, 14 walk-in campsites are available at the south end of the family camp grounds.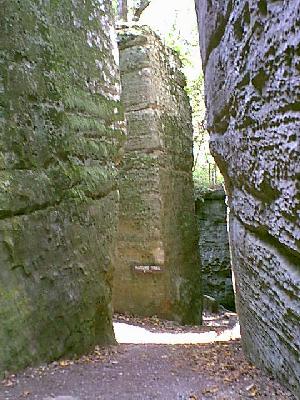 The first European settlers came to the area from Kentucky and Tennessee around 1800 and began cultivating fruit trees. The area got its name because of a series of unusual rock formations which were composed of high, sheer sided cliffs with narrow, flat-bottomed passages between them. They reminded these settlers of a city with its' narrow square cornered passages. A city for Giants.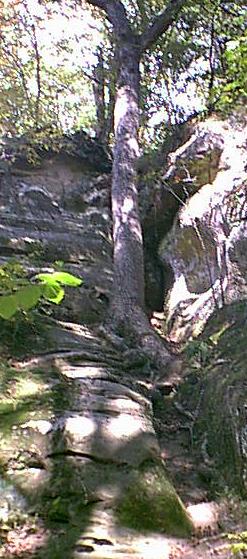 The popular theory is that natural water erosion acting on deep cracks in the sandstone formed the amazing, vertical walls. Rubble fell in and formed the flat "streets". In many of the caves found in the area are signs of human inhabitation, some dating back as far as 10,000 years ago. The blackened ceilings caused by their fires are still visible today.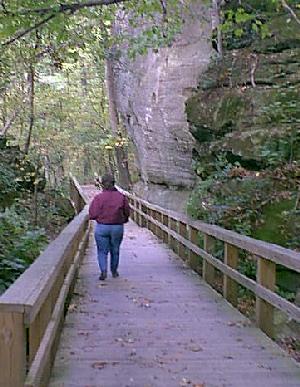 This trail is described as rugged. Others are available for all skill ranges, even handicapped, although even my -- mildly handicapped -- frame handled this trail rather well.
In several places the tenacity of nature is well exhibited, such as this tree sprouting out of virtually solid rock.
There were several wonderful timber bridges helping us across a couple of deep caravasses as well as an assortment of shelters built of timbers and stone. I find these strangely compelling, and always take some time to study them. Just the woodworker in me I guess.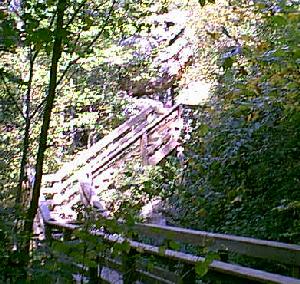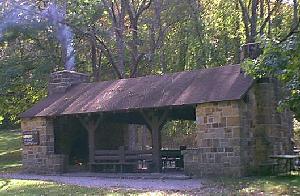 Balance Rock is a large boulder that rolled down the hill and got stuck. Then wind and water wore away most of the ground around one end, leaving it balanced on a small pinnacle on one end and the cliff at the other. The passage underneath forms the exit from the formation.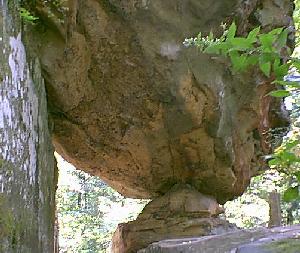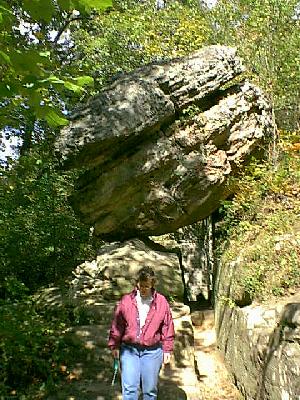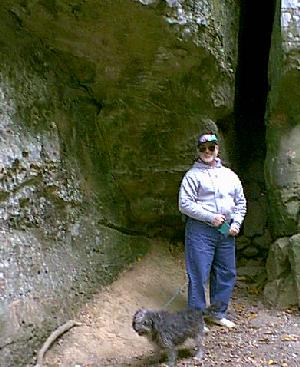 Till next time!