Woodworker Wanderings - Louisville Slugger
By: Doug Bittinger © June 2000
One of the most popular summertime activities in America is baseball. Whether you're a player or a fan, nothing says 'baseball' better than the distinctive crack of the bat as it sends the ball soaring.
Any serious wood turner has at least dreamt of turning a ball bat, and probably pondered where and how this icon of the Great American Game is made. I am no exception and my wife and I recently had the privilege of visiting the factory where the Louisville Slugger baseball bats are produced.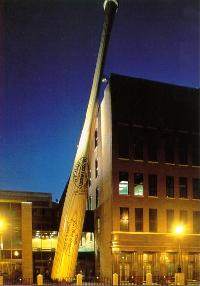 The Louisville Slugger headquarters is a 5 story brick building a couple of blocks from the waterfront, at Eighth & Main streets in Louisville Kentucky. It is hard to miss due to the company's logo, which leans against the building in their entry courtyard. It's a 120 foot tall, 9 foot diameter baseball bat weighing 64,000 pounds: the largest baseball bat in the world. The building it leans against houses their main offices, the factory where all their wooden bats are made, and a baseball museum. Tours are provided of the museum and factory.
After watching a short movie narrated by James Earl Jones which covers the historical highlights of baseball, visitors proceed through an underground locker room and dug out to peruse a collection of baseball memorabilia which pays tribute to famous players and broadcasters of the sport. One, smaller room displays the stream powered turning lathe and turning tools used by our forebears to produce bats for the early players.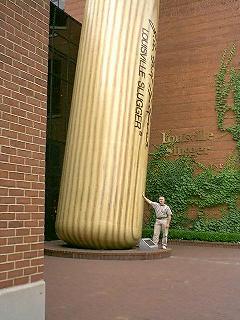 The factory tour begins in a display room showing the three ways that baseball bat billets -- or what we'd call turning blanks -- are produced. Northern white ash trees are felled and their trunks cut into 43" lengths. These logs are then either split into wedges using a hydraulic maul, sawn into squares using a buzzsaw, or cored using a device like a 43" deep hole saw. Billets produced by the first two methods are chucked into a lathe and rounded off using a chainsaw like grinder head that rounds the entire blank at one time. These billets are stacked, strapped and shipped to Louisville.
The Hillerich & Bradsby Co., manufacturers of the Louisville Slugger and other types of sporting equipment, produces over 160 different models of wooden baseball bats at this facility, over 1 million bats per year.
They use three types of lathe to do this. The first is a typical production duplicator lathe using a water cooled, carbide cutting head that shapes the entire bat in one pass taking about 30 seconds and leaves a relatively smooth surface. The next uses multiple cutter heads -- similar to 4 " diameter circular saw blades to grind the billet into shape in an amazing 15 seconds, but it leaves a pretty rough surface. The third is a back-knife lathe which uses a long curved blade similar to that of a paper cutter to slice out the final shape of the bat in a single 15 second pass, leaving a very smooth surface that needs very little finish sanding.
Carts full of the turned bats are rolled to a band saw operator who trims the stubs from both ends of the bat and sands the ends smooth. Then the bats have the company logo and model numbers burned into them by a huge electric branding iron that holds the bat against the heated branding plate and rolls the bat with just the right amount of speed and pressure to produce a perfectly burned logo.
The bats then pass through a bulk sander that smooths the barrels and removes the surface discoloration left from the branding process. The end of this process is a rolling pass through a gas flame that 'tempers' the bat. I don't know that this toasting actually changes the strength of the bat, but it does bring out the distinctive grain pattern of the Ash.
Each bat is then hand dipped in a vat of lacquer and hung on a rack to pass through a drying oven.
All that remains now is to wrap the handle with tape, and seal the finished bat in a protective sleeve for shipping.
Unfortunately, taking photographs in the factory is prohibited, but unlike some factory tours, visitors are right there next to the machines, able to see everything going on. Plexiglass shields keep the foolish from losing body parts, but you couldn't ask for a more up-close and personal look at some fascinating turning equipment.
So, next time you're in the Louisville area, plan to set aside an hour or so and visit the baseball museum and factory. They're open Mon.- Sat. 9-5, the last tour begins 1 hour before closing. For a preview, you can visit their web site for a virtual tour.
When you get back, I guarantee you'll be heading for your local Rockler Woodworking and Hardware store to pick up a bat blank or two!

Till next time!
---