Home Page | Writings Index
Martin Guitar Factory Tour
By: Doug Bittinger - Sept. 2000
Originally written as part of the Wandering Woodworker series of articles published by Today's Woodworker Magazine.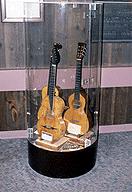 This month my wanderings will take us into a realm where many wood workers fear to tread. Musical instruments. The guitar in particular.
Allow me to immediately and forthrightly admit that I have absolutely no musical talent whatsoever. Still, I enjoy listening to music and find the delicate tones of a well played acoustic guitar to be delightful.
A short time ago I attended a John Pizzareli concert and a Classic Guitar Show. After seeing some of this masterful work close up (and enviously admiring the sounds John gets out of his seven string guitar), I decided to learn more about guitar making. Since I like to learn from the best, I decided to call on the Martin Guitar Company at 510 Sycamore Street in Nazereth PA.
Tours of the factory, if you dare to call it that, are free for small groups. Large groups are $2.00 per person and must be arranged in advance. Photography is allowed as long as you don't use a flash. If you like, they will gladly give you a sound hole cut-out as a souvenir.
First the (brief) history lesson. The Martin Guitar Company was founded by Christian Frederick Martin Sr., born Jan. 31, 1796 in Markneukirchen Germany. When the young C.F. Martin finished his apprenticeship as a guitar maker and hoped to open a shop of his own, most guitar makers belonged to the Cabinet Makers Guild. The Violin Makers Guild became concerned about the impact that the guitar would have on the musical instrument world, and began a slanderous campaign to discredit the instrument. They charged that violins were instruments created by artisans for artists. Guitars, on the other hand, were produced by Cabinet Makers: mechanics who produced furniture, and were no more a musical instrument than was a chair.
Since the guitar's inception had only been 35 years earlier (by Georg Martin, C.F. Martin's father) the battle took it's toll on the marketability of the guitar in Germany. So on Sept. 9, 1833 C.F. Martin left his homeland to set up shop in New York City.
As is always the case with a young genius, attempting to sell something new, it was a rocky start. But by 1850 the demand for Martin guitars had grown to the point that a new, much larger 'factory' was built in order to accommodate the demand for Martin Guitars.
The rest, as they say, is history.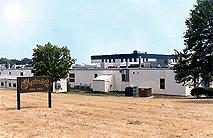 Today the company is run by C.F.(Chris) Martin IV, the sixth generation of family members to have taken the reigns of the company.
Martin guitars are acclaimed as one of the best guitars in the world. Many popular musicians use Martins, including Paul McCartney, Bonnie Raitt, and Eric Clapton, along with over 500,000 other satisfied owners.
The '1833 Gift Shop' sells Martin guitars; new, used and antique, strings, supplies, books, clothing, and other memorabilia. Up the street (10 W. North St.) in the old Martin factory is Guitarmaker's Connection, which sells acoustic guitar tonewoods, kits, parts, instrument making supplies, strings and construction/repair books.
Your tour begins with an optional 17 minute video that shows the production process, and is narrated by C.F.(Chris) Martin IV.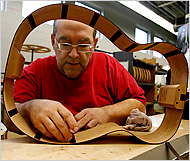 The guitar making area looks more like a large woodshop than a factory. This is because the Martin family believes that the rich tone and elegant finish of their guitars can best be achieved by hand crafting. Therefore, most of the approximately 300 steps of building a guitar are done by hand. Only recently have power tools been added, and very few machines were to be seen. With so many steps to see, the two hour tour moves along quickly.
This is an open environment. You can stand next to workers as they diligently bend, trim, shape, glue, fit, sand, stain, lacquer, buff and inspect Martins.
You'll see craftsmen using rasps, files, and carving knives to shape the neck. Watch for the step that uses common clothes pins as clamps.
A detailed description of the process is beyond this brief article, but after seeing it for yourself, you'll really appreciate the 3 to 6 months of craftsmanship required to convert rough spruce, rosewood, ebony, and other fine woods into a finished Martin acoustic guitar.
Ah, if only I could learn to play one.
Till next time!

Video update: