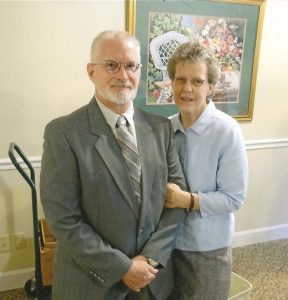 Doug and Marie Bittinger are followers of their savior Jesus Christ.  Doug is a husband,  writer,  web site mechanic, and dogtor.  Marie is wife, dog-mom, and Payroll Administrator at Smoky Mountain Home Health & Hospice in Newport TN.
They live on 4 acres of mountainside in the Great Smoky Mountains region of East Tennessee with a 90 pound  pit bull: Blondie Bear, who helps them herd beagles: Josephine, Buddy, and Callie Roo (who is actually a pit bull, but she identifies as a beagle) ; along with a rotating assortment of foster dogs who come here from regional shelters for healing and training.
Doug and Marie have been actively involved in Canine Rescue since July of 2012.  They Joined the newly formed Steele Away Home Canine Foster and Rescue in Oct. of 2016, and on Oct. 31st of 2019, they gathered a group of rescue-minded people and formed the non-profit corporation: Piney Mountain Foster Care, Inc. to further their efforts to save dogs from euthanasia, and address the issues of animal abuse and spay/neuter programs.
The Beagle Bunch