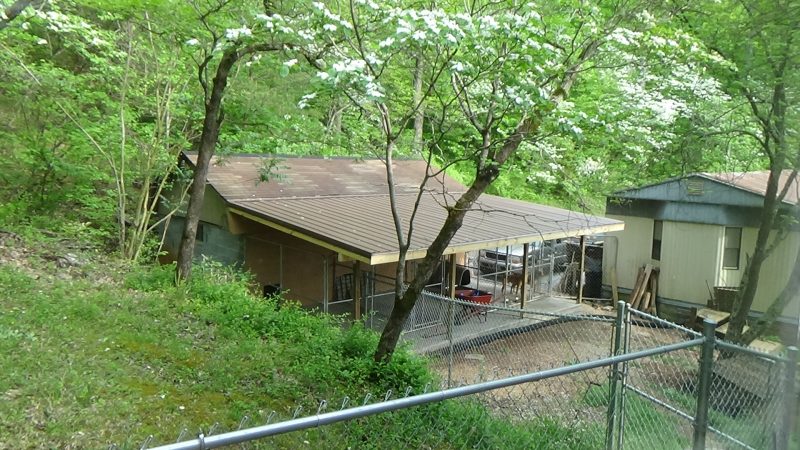 Piney Mountain Foster Care is a small, all volunteer, non-profit kennel facility located on 4 acres of mountainside property in Edwina Tennessee. We got our start in 2012 by caring for dogs going through heartworm treatment.  We still do this and other medical care.  We also work with dogs with behavioral issues.  But we are delighted to work with well-adjusted, healthy dogs who just need a break in life.
Our Mission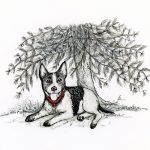 Our primary mission is to help rescue dogs from kill shelters.  Many need health care.  Most need training.  That's where we come in.  We offer medical rehabilitation and behavioral modification in a tranquil setting.
When adoptable, we work with and through canine rescues locally and around the nation to find these dogs quality homes.  See the Canine Rescue Partners page for details on them.
The secondary mission is to raise awareness and promote prevention of animal cruelty and to curb rampant companion animal over-population by promoting low cost spay-neuter programs.
Our Facility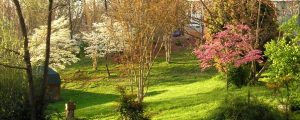 Our facilities include a 1/3 acre fenced play yard, 8′ x 10′ chain link kennels on a raised concrete slab with perimeter drains, under a proper roof, with dog houses and raised beds for nice weather accommodations, and a heated bunkhouse with an assortment of crates for foul-weather and short term accommodations of non-housebroken dogs.  Each dog gets 3 to 5 play/training sessions each day when they are allowed to run, play, and train in our large, fenced yard.  The kennels are cleaned each time the dog is let out, to keep their "rooms" pleasant and sanitary.  We normally have seven to ten dogs in residence at a time.
Funding Foster Care
To keep the facility maintained and provide food and medical care to our residents, we depend heavily on our generous donors.  Donors may choose to offer general support or select a specific program.  Your gift may be a one-time donation, or monthly.  Funds include:
One-time gifts are welcome and much appreciated.  Use the DONATE button, enter any amount, and choose a program.  You may pay with your PayPal account or use a credit card.

Please consider becoming a PMFC Sponsor by ticking the "make it a monthly donation" box.  PayPal will then automatically bill your PP account or credit card each month until you elect to stop it.

Either way, include your e-mail address at check-out and we'll be sure you are notified when new articles and events are published as well as keeping you up on how your donations are making a difference in our community.

116 dogs
fostered
to date
NOTE: PMFC is an all-volunteer organization.  All money donated to Piney Mountain Foster Care, Inc.  is used to provide care to the dogs, not salaries or benefits to humans.  PMFC is a 501(c)(3) Public Charity.
Foster Dogs Past & Present
Below are photos, names and residency dates of our fosters, all were supported through your donations.
Most dogs get a Notes On A Rescue Dog page that offers photos and video of that dog interacting with people and other dogs as well as descriptions of their personality, habits, and progress in training. As adopter Debra Solitto told us, "I have read your blog about Julian many times. It was posted by Meryl on the Fur Friends in Need Facebook page. That blog and the videos of Julian are the main reason that we pursued this adoption. After I met Julian at the adoption event and saw those videos, I knew that I had to have this dog". We encourage rescues taking our dogs to link to the page related to that dog and use it in finding them a forever home.









Smokie Archound
July – July 2020
GAC | Male | Senior | Foster | ARNNE

Hunter Labragoof
July – Here Now
NAC |Male | Adult | Transfer | Adoption

Bailey
July – Here Now
NAC | Male | Adult | Trans | ARNNE

Bobby D'Husky
July 2020 – Here Now
FAS | Male | Adult | Trans | APtH

Adam Huskherd
June – July 2020
FAS | Male | Youth | Trans | APtH

Cyrus Huskadoll
June – July 2020
FAS | Fem | Youth | Trans | APtH

Roscoe Redusky
June – July 2020
OS | Male | Adult | Trans | APtH

Blade Malawoofer
July – Here Now
FAS | Male | Adult | Trans | APtH

Chip Schnauzhuahua
March – April 2020
NAC | Male | Adult | Foster | ARNNE

Carme Shepcorgo
March – April 2020
NAC | Male | Adult | Foster | ARNNE

Spirit Huskador
April – June 2020
FAS | Male | Youth | Trans |Adopted

Creo Terrhund
June – July 2020
FAS | Male | Adult |Trans |Adopted

Cheyan Cinnastreak
Dec. 2019 – Jan. 2020
NAC | Fem | Adult | Foster | ARNNE

Scout Shepherd
Jan. 2020 – Here Now
FAS | Male | Adult | Foster | FAS

Phoenix Grahoond
Jan. – April 2020
NAC | Fem | Senior | Foster | ARNNE

Camden Tangelokz
Feb. – July 2020
HSJC | Male | Senior | Foster | HSJC

Spartacus Beagelus
Nov. – Dec. 2019
NAC | Male | Adult| Foster | ARNNE

Bandit Steele
Nov. 2019 – Jan. 2020
SAH | Male | Adult | Foster | SAH

Dawson Wigglestump
December 2019
FAS |Male | Adult | Foster | FAS

Burton Flirtsworthy
Dec. 2019 – Jan. 2020
FAS | Male | Adult | Foster | FAS

Martin Lovebug
Aug. – Nov. 2019
NAC | Male | Adult | Trans | ARNNE

Faith Lou-Ellen
Sep. 2019 – May 2020
CVH | Fem | Mature | Trans | Adopted

Louis
September 2019
NAC | Male | Adult | Foster | SAH
SAH                                              SAVE

Rosco
Sept. – Nov. 2019
SAH | Male | Adult | Foster | SAH

Lemaster
June – July 2019
NAC | Male | Adult | Foster | SAH

Luna
June – Aug. 2019
NAC | Fem | Adult | Foster | NAC

Lil Blue
Aug. – Sept 2019
NAC | Male | Adult | Trans | SAH
.                                                     Lucky 7

Major
Sept. – Nov. 2019
FAS | Male | Adult | Foster | FAS

Blaze
April – Sept. 2019
NAC | Male | Youth | Trans | SAH
.                                                   SAVE

 Rocky
April – July 2019
NAC | Male | Youth | Trans | SAH
.                                                     SAVE

Sable2
Apr. – Sept 2019
SAH | Fem | Adult | Foster | SAH
.                                                   SAVE

Cinnamon
Aug. – Sept. 2019
SAH | Fem | Adult | Foster | SAH
.                                                 SAVE

Sable
Nov. 2018 – Jan 2019
NAC | Fem | Mature | Foster | SAH
.                                                   SAVE

Lennon
Jan. – June 2019
NAC | Male | Youth | Foster | SAH

Selma
Jan. – Mar. 2019
SAH | Fem | Adult | Foster | SAH

Lucy2
Feb. – Mar. 2019
SAH | Fem | Youth | Foster | SAH

Highland
Oct. – Nov. 2018
Male | Adult | Trans | SAH

Samson
October 2018
Male | Adult | Trans | SAH

Hudson
Nov. 2018 – Jan. 2019
NAC | Male | Adult | Foster | SAH
.                                                 11thH

Rebel
Nov. 2018 – Mar. 2019
OS | Male | Adult | Foster | SAH
SAH                                              APtH

Ugg (yes: Ugg)
Aug. – Nov. 2018

Lady
Sept. – Oct 2018

Low Rider
October 2018

Calla Lily
Oct. – Nov. 2018

Moonshine
June – Nov. 2018

Mya
August 2018

Beckett
August 2018

Blue
Aug – Sept. 2018

Foxy
Apr. – May 2018

Bear
May – June 2018

Daenerys
July – Aug. 2018

Mitzie
July – Aug. 2018

Kringle
Feb. – Mar. 2018

Lucy
Feb. – Mar. 2018

Rainy
March – Aug. 2018

Lucky
May – June 2018

Ellie Mae
Nov. 2017

Mystery
Jan. – Feb. 2018

Angel
Jan. – Feb. 2018

Sasha
Feb. 2018

Booker

Sept. – Oct. 2017

Roscoe

Day Camp, October 2017
Nov. – Dec. 2017

Ricky

Nov. 2017 – Jan. 2018

Callie

Dec. 2017 –
Forever Foster

Shiloh

July – Aug. 2017

Buddy Beagle

Sept. 2017 –
Forever Foster

Nutmeg

Sept. – Sept. 2017

Ty

Oct. – Nov. 2017

Charlie

Mar. – Mar. 2017

Julian

Apr. – Aug. 2017

Sylvia

Apr. – Dec. 2017

Buddy Gold

June – July 2017

Valentina

Feb. – Mar. 2017

Ilo

Feb. – Mar. 2017

Lego

Mar. – Apr. 2017

Josephine

Apr 2017 – Resident

Bud

Jan. – Feb. 2017

Cora

Jan. – Feb 2017

Spencer

Feb. – Mar. 2017

Joey

Mar. – Mar. 2017

Lulu

June – Sept 2016

Fido

Nov. – Dec. 2016

Jasmine

Nov. 2016 – Jan. 2017

Gator

Nov. 2016 – Mar. 2017

Roger

Nov. 2015 – Jan. 2016

Volt

Jan. – June 2016

Millie

Sept – Nov 2016

Tinker

Oct. 2016 – Feb. 2017

Shortcake

June – Aug 2015

Bristol

Aug. – Dec 2015

Kathy

Sept. – Dec. 2015

Jasper

Mar. – Oct. 2016

Drake

Sept – Oct 2014

Cogdill

Jan. – May 2015

Dune

Jan. – Apr. 2015

Buster-Bob

May – Aug 2015

Boomer

April – June 2014

Smokey

April – Dec. 2014

Lupa

Oct – Dec. 2014

Lancelot

Dec. 2014 – Mar. 2015

Hercules

Dec 2013 – Apr 2014

Buster

Feb – Aug 2014

Kingsley

March – July 2014

Babe

July – Sept 2014

Jim

May – June 2013

Malachi

Oct – Nov 2013

Rhonda

Aug – Dec 2013

Cheyanne

Dec 2013 – Jan 2014

Bella

Dec 2012 – Jan 2013

Blondie-Bear

March 2013 – Resident

Janet

June – Aug 2013

Belle

July 3013 – died

Cochise – R.I.P.

June 2012 to May 2018

Curry

Sept – Nov 2012

Ruckus

Nov 2012 – Jan 2013

 Faith

Jan 2013 – died
Save
Save