Funds raised here pay medical expenses and buy nutritious food to fill bellies and bring good health, blankets to snuggle into, collars, harnesses, and a myriad of other things we need to properly care for the precious lives we welcome to Piney Mountain Foster Care.

Thank you for your support!

Piney Mountain Foster Care is a GuideStar Platinum Seal 501(c)(3) Public Charity
---
Canine Cuisine Book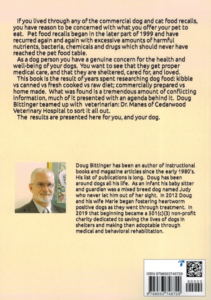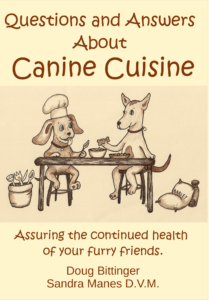 Piney Mountain Foster Care's facility manager: Doug, and our veterinarian: Dr. Sandra Manes, have been working on a book about canine nutrition and feeding for a couple of years. It's finally been published and is available to the public.  The book features illustrations by Donna Gregg.  Order from Amazon.com here:
https://www.amazon.com/dp/B08NDRBWGG
This book is available for local purchase at Our Place Bookstore and Coffee Shop in Cosby TN and at The Mustard Seed in Newport TN.
This book covers all aspects of canine nutrition and discusses everything from choosing a good commercial kibble to cooking your own dog food (including recipes). We also cover raw diet, grain free, all-meat, boutique meals, and have a hard look at proper nutrition for dogs dealing with diabetes, heart disease, kidney disease, and cancer. Tons of useful information presented for the average person in Doug's lighthearted writing style.
---
Fido Fixer Elixir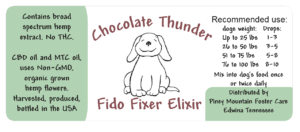 Our Chocolate Thunder Fido Fixer Elixir is locally made by our friend the Essential Oils Ninja from USDA approved, organically grown hemp flowers.  Harvested, produced, and bottled in the USA.  Click the link above to read Blondie Bears recovery story and how we became fans (and producers) of high quality CBD oil for our furry friends.  A one ounce (30 ml) eye dropper bottle contains approximately 1,000 drops. 
NOTICE: This product is offered only for animal use. (We have to say that)
$25.00
(with free shipping via USPS 3 day delivery)
---
Kuranda Dog Beds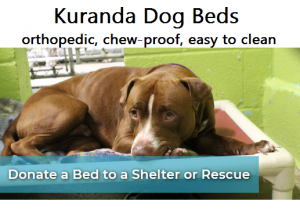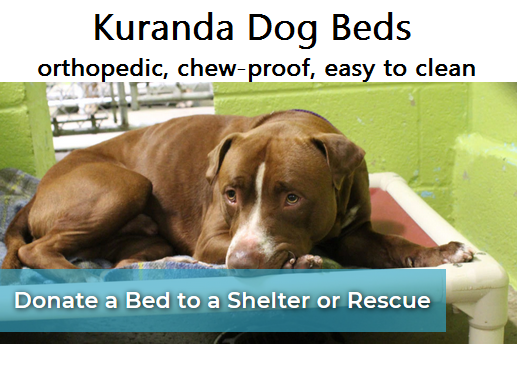 Elevated, Orthopedic Comfort
Kuranda's elevated dog beds are a great relief for dogs' joints. The cot-style design evenly distributes their weight so that there are no pressure points like they would have on a hard surface. No more sore hips, elbows or shoulders.
Engineered Chew Proof
Kuranda's patented design secures the fabric inside a special channel in the frame making it totally inaccessible to dogs that chew. Pair with a scratch-resistant fabric and you have a chew proof bed. Guaranteed for 1 full year.
Piney Mountain Foster Care has an affiliate account with Kuranda beds, so if you click the image and order your bed, Kuranda will share part of their profit with us. Or if you wish to donate a bed to us, you can do that here too and Kuranda will ship the bed directly to us.
---
Paw-Print Coasters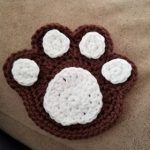 These delightful coasters are hand crocheted from super-absorbent yarn by multi-medium artist Donna Gregg. They are approximately 5″ in diameter: big enough to protect your furniture from a large mug or even a bowl. These will be custom made for you in your choice of colors, then shipped directly to you.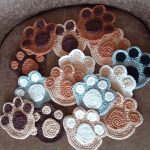 These make great gifts for any animal lover, as well as being a useful addition to your own home that helps feed hungry rescue dogs.
$5.00 each or a set of four for $18.00
(with free shipping)
To Order e-mail DGregg6@hotmail.com or Message her on Facebook
Donna accepts on-line payments through PayPal.
---
---
Portraits by Donna
Dog lover, rescuer, and artist Donna Gregg has offered to support Piney Mountain Foster Care through her artworks. When I got one of Donna's works of art in the mail as an early Christmas present, I was astounded by her likeness of our American Bulldog mix: Cochise. It is so life-like and detailed (center below).
Below are just a few of the dog portraits she has done:
Donna can produce a portrait of your dog (or that of a friend) as well. She'll need a clear photograph of your dog's face to work from and can combine multiple dogs into a group portrait. Donna's fees are reasonable and if you give her the secret phrase, "Cochise sent me", she will donate half of her fee to Piney Mountain Foster Care. These portraits can be done in a variety of sizes and come matted and ready to frame.
About Donna Gregg and her Dog Portraits
How do I love dogs? Let me count the ways. When I was a wee tot, my drawings of dogs didn't look like other kid's pictures. Theirs had stick feet and round bodies, and mine actually had paws with the correct number of toes. Then I graduated to cartoons of dogs. I thought to myself, I'm on to something!
Then life happened and I became an IT geek and didn't draw for decades. I then morphed my love of dogs with my crochet hobby, and began making caricatures of friends' pets with yarn. The bigger the feet, the bigger the nose, the better.
Then the little light under my bushel basket said "Hey, remember me: Pencil and paper?", and my first dog portrait happened. And then another, and then another. I love bringing pets to life on paper; a number of my pieces are memorials for pets who have passed away.
The bottom line: I love using my talents to make people happy. I hope I can bring some joy to whomever reads this.
Contact
You can get in touch with Donna Gregg through Facebook:
https://www.facebook.com/donna.gregg.566
Or by e-mail: dgregg6@Hotmail.com
If you enjoy our pupdates, Doggy Tales, and educational articles consider subscribing for notices when new pieces are posted. It's painless and you can unsubscribe any time you want. Your e-mail address is used ONLY to deliver these notices.

Piney Mountain Foster Care is a GuideStar Platinum Seal rated 501(c)(3) Public Charity.

All proceeds go to caring for the dogs, not salaries or benefits for people.