During this time of medical emergency when more and more cities are locking down and prohibiting travel, it has ripple effects on others, even those far away and not (yet) under mandated quarantine.  For instance, of the 10 dogs currently in residence here at Piney Mountain Foster, 3 have been claimed by a rescue and 1 has been adopted and are ready to move on toward their forever homes.  But they can't because of travel restrictions.  So they will stay here until the emergency is passed and folks are allowed to venture out enough to claim their new family members.  Will you help us feed them during this time of trouble?
Paw-Print Coasters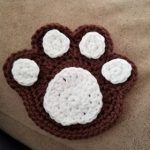 These delightful coasters are hand crocheted from super-absorbent yarn by multi-medium artist Donna Gregg.  They are approximately 5″ in diameter: big enough to protect your furniture from a large mug or even a bowl.  These will be custom made for you in your choice of colors, then shipped directly to you.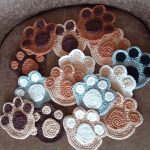 These make great gifts for any animal lover, as well as being a useful addition to your own home that helps feed hungry rescue dogs.
$5.00 each or a set of four for $18.00
(with free shipping)
To Order e-mail DGregg6@hotmail.com or Message her on Facebook
Donna accepts on-line payments through PayPal.