Maggie was a treasured member of a loving family until the situation with their landlord changed and he demanded they get rid of their dogs. No fault of the dogs, but they lost their home.
Last updated April 14, 2021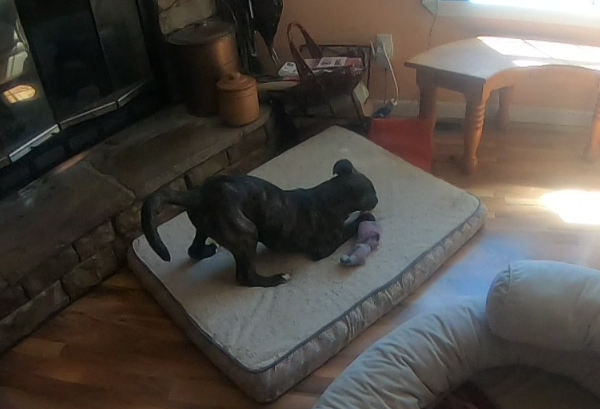 Base Info:
Arrival date: March 30, 2021
Breed: German Shepherd / Boxer mix
Sex: Female
Age: Puppy
Birthdate: @ Dec. 3, 2020
Weight: @ 25 pounds on Mar 30
Spayed: Yes
General Health: Excellent
Temperament: Playful, energetic, affectionate.
SAFER Test performed: Yes – Passed
Departure date: Undetermined
---
Adoption Information
Submit a completed Adoption Application (Now an on-line, mobile friendly form).
Contact information for your veterinarian is required and we will do a reference check. We do not adopt to people who neglect their dog's health.
An adoption Contract must be signed by PMFC and Adopter. This is a legal document and an actual signature is required. If the form must be mailed back and forth, allow time for that to happen. Electronic PDF is allowed if you can print/scan.
Adopter arranges transport. We have worked with HEARTS LLC (fees are paid to the transport service).
Adoption fee is $200.00 This generally does NOT cover what we have invested in medical care and room & board. But it helps.
---
Progress Summary
Detailed progress notes are listed below the summary and photo gallery
Relational Behavior
Relates well to other dogs: Yes, eagerly greets other dogs
Can eat food/treats near other dogs: Doesn't bother her, but she's piggish: will get into other dogs dish
Preferred style of play: Likes to frolic and jump on play mate. Great at playing fetch! Learning Tug
Is affectionate: Yes
Is good with:
. Men: Yes
. Women: Yes
. Children: Yes
. Cats: Unknown, but probably. She's too young to do otherwise.
Jumps up on people: Yes, working on that.
Mouths: Yes, working on that.
Walks well on a leash: Gets underfoot a lot. Working on that.
Commands
Comes when called: Most of the time (sometimes gets distracted)
Sits on command: Working on that
Down / Off: Not yet
Shake / Paw: Not yet
Kennels on command: Yes, with a bribe
House Dog Training
Willingly enters her crate: Yes.
Is calm/quiet while in crate: Mostly, unless she gets lonely or needs to potty.
Understands going outside to potty: Yes
Alerts me of need to go outside: Goes to the door, but has little patience/persistence.
Is destructive of bedding and/or toys: Only if she gets bored. she IS a puppy. I keep several toys in her crate for her.
Engages in kitchen counter cruising: HA! She too little right now.
Stays off people furniture: Working on that. If we're sitting on the sofa she wants up there too. Otherwise, yes.
Diet
Victor Classic – Professional Dry Dog Food
½ cup kibble plus 3 oz. home made stew AM & PM
PMFC Peanut butter cookies given as rewards for compliance.
Occasional snacks include:
Retriever Beef Basted Sticks
Jones Beef Hooves (small)
Gallery
Progress Updates
March 31
She did excellently last night. I brought her in around 8:30. Marie played with her for a bit then I settled her in her crate. We fiddled about for a while getting ready for bed, then slipped off. Both of the new girls remained quiet and slept through the night. I got up once around 3:00 to greet John and they stirred, but did not fuss. I went back to bed and so did they. I got up at 4:00 (as is my habit) and took each of them outside to potty, gave each a drink, and began my study time. Both behaved splendidly!
I have taken her outside to potty several times today and she always produces. No bashfulness here. Has kept her crate clean today and been a very good girl.
---
April 2
Maggie has spent three nights here and has been calm and quiet each night, no issues at all at being crated for the night.
She will play with any and all of the other dogs, but her puppy exuberance is too rowdy for most of them. She loves to play fetch. She likes to run with Baby and will chase her all around the yard.
---
April 4
Maggie is settling in well. after a couple of the other dogs snarled at her for being a pest she has reigned in her exuberance and is better about inviting others to play rather than demanding. She's also developed patience when I leave the room with her crated, she knows I'll be back and does not fuss.
---
April 11
Maggie is getting big! She's only gained 4 pounds but she's 50% bigger than she was when she arrived. Longer, lankier, leaner. Looking like a dog not a puppy. I'm feeding her at plus 50% of her recommended rate for weight because she is a puppy and growing fast. Also adding cheese for the added calcium she needs.
---
April 14
Maggie was spayed yesterday. While she was out we also had her chip implanted, heart worm test done, and brought all her vaccinations up to date. She did well with this procedure and is heart worm negative (a good thing). She did not feel well last night, but that's to be expected: spaying is major surgery. She did not feel so bad as to refuse dinner last night though!
This morning she's looking really thin. Gaunt even. Can missing ONE meal do that to a puppy? I'll increase her feed amount to get her filled out properly again. This morning is is wanting to lick at her incision. We cannot allow that. I tried a wrap, she defeated it. I tried a cone, she hated it. So I switched to a donut. She's doing better with that.
Maggie will need about a week to recover, then she'll be ready to adopt.
---
More will be added as this sweet girl progresses. Subscribe for notification of updates.