About 10:00 last night Marie and I were traveling west along I-40 taking a pair of Huskies to meet their transport to NJ when the truck's engine died.  Timing chain (belt) broke, I think, but I'll leave that to the professionals at Eastport Exxon to figure out.  With cloudy skies it was really dark out there, a Thursday night: heaviest night of the week for semi traffic, which were whooshing by just feet away from us, rocking our truck with each pass.  The Huskies were scared and screaming their heads off.  If you've been around Huskies you know what I mean.  It's a Husky thing.
What do we do now?
Marie started praying.  Always a good place to start.
I called the Cocke County Sheriff's Department.  Although they were short handed and quite busy, a Sheriff's car came up behind us to run flashing lights so no semis smashed us.  Deputies Alex and Heath turned out to be dog lovers and were not gruff with us at all for asking for their help.  In fact I think they enjoyed getting to see the inside of a rescue transport vehicle set up so animals can be taken in and out easily yet ride securely.
That transport, which we were supposed to be meeting at a truck stop on I-81, came to us (which meant going on to Newport, turning around and coming back to where we were) and we transferred the dogs.
The driver of this transport, Melinda, was having a horrendous night before I complicated it further.   Before she got to Nashville a tractor-trailer truck went off the road and burned, closing I-40 for an hour and a half while crews got that put out and cleaned up.  Then she hit another traffic snag in Nashville, so the rendezvous that was planned for 8:30 pm got shoved back to 10:30.  There was another wreck that slowed traffic after she left here and headed north, so it was a rough run for her.  We work with a couple of other transport services, and I'm not sure they'd have been so accommodating if all this had happened to them.  So, Thank you Melinda!
Hartford Towing sent a rollback right out there to snatch our truck from the roadside.  And Tim Holt came out, even as late as it was, to give us a ride home.  All coordinated perfectly (thank you God) so the rollback did not show up before Melinda got there, which would have left us standing alongside the Interstate with Huskies on leashes in the dark, being buffeted by tractor-trailer wakes.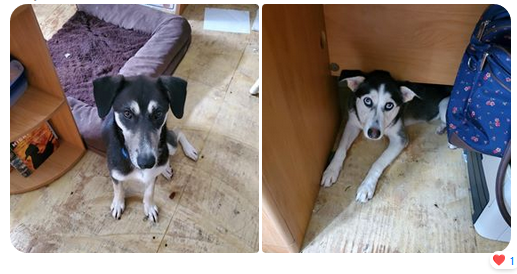 Our truck is out of commission until it's repaired, which might be a couple of weeks: they're backed up too and I didn't think to schedule this event ahead of time.  But no one was hurt, the dogs got where they were going, we met a couple of nice Deputies, and … it WASN'T raining!