Pearl was one of three dogs picked up for vagrancy by the pet police. No owner ever came to claim her, so she's starting anew.
Last updated: Aug. 8, 2023
History
Pearl was picked up with two other dogs: Camo; who is clearly related to Pearl, but younger, and another unrelated dog who was adopted before we pulled these two. All were classed as strays, posted on the Animal Control Facebook page but no one came to reclaim any of them, so Animal Control made them available and PMFC took them both in.
Base Info
Arrival date: June 9, 2021
Breed: Husky mix
Sex: Female
Age: Adult
Birthdate: @ June 2019
Weight: @ 45 pounds on June 9, 2021
…………………50.8 pounds on March, 2022
……………….. 50.0 pounds on Jan. 1st, 2023
……………….. 54.2 pounds on Aug. 1st, 2023
Spayed: Yes, July 1, 2021
General Health: Excellent
Temperament: Can be rowdy at times, but has learned to express affection gently.
SAFER Test performed: Yes – Passed
Departure date: Undetermined
---
Adoption Information
Start by submitting a completed Adoption Application (Now an on-line, mobile friendly form).
Contact information for your veterinarian is required and we will do a reference check.
If local, (within reasonable driving distance) schedule a meet-n-greet after your application has been processed. If you have another dog, bring it. A home inspection and interview will be done after a successful meet-n-greet. Sometimes we can bring the dog to you for a combined meet-n-greet and home inspection.
Local adoption fee is $200.00 This includes spay surgery, vaccination against Parvovirus, Distemper, Adednovirus, Rabies, and Bordatella and a thorough de-worming. This dog has been microchipped and will be registered in the adopters name. Any health issues we found were addressed and are described below.
For long distance adoption, contact a reputable rescue near you and ask them to pull the dog from us and handle the adoption to you using their policies and fees.
---
Progress Summary
Detailed notes and discussion are available below the summary and gallery.
Relational Behavior
Relates well to other dogs: Yes, she relates positively to friendly dogs
Can eat food/treats near other dogs: Yes
Preferred style of play: Likes solo play with balls (video below), running and wrestling with dogs.
Is affectionate: Yes.
Is good with:
. Men: Yes
. Women: Yes
. Children: Unknown – can get rowdy for toddlers.
. Cats: NO.
Jumps up on people: Not any more.
Mouths: Rarely – doing much better
Walks well on a leash: Yes
Housebroken: Working on that.
---
Commands
Comes when called: Yes
Sits on command: Yes
Down / Off: Yes
Shake / Paw: Yes, but insists on making it her own (video below)
Kennels on command: Yes
---
Diet
Victor Classic – Professional Dry Dog Food, Purina One classic ground canned food.
PMFC Peanut butter cookies given as rewards for compliance.
Occasional snacks include: Milkbones, Bil-Jac
---
Photo Gallery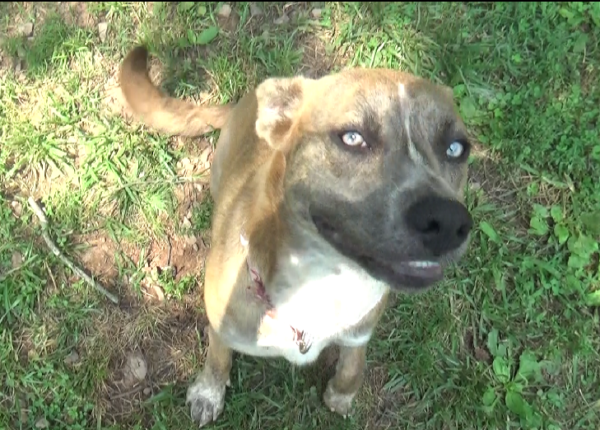 June 12, 2021
Pearl is coming along. She still gets excited when we are in the yard together: jumping on me and nipping at my hands. Camo was the same way at first. I'm using the same technique I did with him and it is helping, she just slower at being dissuaded from this behavior. She's not dumb: she has learned "In Your Room" (although she does not always comply right away) and she now knows "sit" (and is compliant).
She loves her swimming pool. I put that in there because she would stomp in her water bowl. She plays in her pool all the time. When it gets hot I've seen her laying in the water, resting.
---
June 22
We've taken to calling her Pearl the Squirrel because of the goofy antics she gets into – she's DEFINITELY a Husky! She rarely goes into her dog house, but she loves to sit or stand atop it. My favorite is when she lounges over the entrance part like she's draped over a barrel (photo in the gallery above). So funny.
She is starting to move away from me when she gets play time. Sometimes she just wanders a short way away to sniff the grass, other times she takes off and RUNS in big lazy laps around the yard. But if I call her she comes right back to me.
She learning that she gets more petting if she's calm and stays, "down". When she insists on jumping on me she goes back to her room early. She's learning. Not as fast as Camo DeTigger did (they are clearly related) but she is learning. She even let me trim her nails yesterday. A major step forward.
---
July 2
Pearl was spayed, HW tested and got her rabies and microchip yesterday. She is heartworm negative, so we can now safely make her available for adoption. While she was groggy from the surgery I trimmed all her toenails and got her into a surgical onsie instead of putting her in a cone. She would HATE the cone!
By bed time last night we managed to get a small tail-wag out of her. She tried to eat something but it came back up. This morning the tail is swinging wider and she's in less pain. She ate the stew I brought her for breakfast but left the kibble part for later. Probably wise until her tummy is feeling better.
---
July 5
Pearl is back to being her spunky self again (video above). She wants to know when she can have her swimming pool back. That won't be until next week. The incision looks good and is healing well but she needs a full 10 days before she can get wet again.
---
July 10
Pearl has healed up well from her spay surgery. She decided she was tired of the surgical onesie she was wearing (instead of a cone – Huskies HATE cones) and she slipped out of it and shredded it. Technically she has a few days to go but she's leaving the incision alone so I'll not harass her further.
---
July 14
I have been keeping Blade and Pearl separate because Blade was antagonistic toward Pearl. She did not return his animosity. I figured Blade was just being Blade and reacting to change. He doesn't like change, even a pretty girl moving in next door. A few days ago I finally let them out to play in the yard together. At first Blade was being grumpy, but Pearl soon won him over and they were running and playing in the yard. See video above. Pearl does not seem to dislike any of the dogs and would be happy to play with any of them. I'll start testing that soon.
---
Sept 21
Pearl gets along with and will play with all the other outside dogs. She has calmed down and is more manageable in the jumping on people to demand affection department.
---
Nov 17
Pearl has calmed quite a bit now. She's still a Husky and has a lot of energy, but has learned to direct it in proper directions. She rarely jumps up on me or tries to mouth me. She has learned to appreciate some quiet time with a chew bone or toy (See "Kongs" video above). She also appreciates a spell of calm petting.
With the colder weather I have been closing the kennel dogs in their bedrooms at night. The kennel building is heated and closing the doggie doors keeps the cold out. I gave her a blanket to snuggle into on her Kuranda, she seemed to appreciate that the first night, but has since decided it's a toy and spends the night destroying it.
She keeps her room clean every night, waiting until I let her out after breakfast to relieve herself. A good start on house breaking/crate training. I have no trouble getting her to come into her room at night, she is not averse to being confined in her room.
---
Dec 11, 2021
Pearl is doing MUCH better as restraining her enthusiasm and demanding attention from me. We have been closing her into her bedroom at night because of the cold. She has a perfect score for keeping her room clean and dry all night long. Well, except for those times when she goes snorkeling in her water bucket. But that is clearly drinking water not urine. What's a husky to do when she gets bored? Shove her head into her water bucket and blow bubbles through her nose, of course!
Giving her a Kong toy stuffed with biscuits has given her something less soggy to do until she's ready for bed.
April 11, 2022
Pearl has calmed down a lot in her relationship with me. She has been exposed to several new people recently and did well with all. She has become reactive to other dogs walking by her kennel, but that is common when a dog is confined. When it is she who is loose and walking by the other dog, she's fine. And she plays well with most other dogs.
She does well at keeping her bedroom clean at night as long as I don't dally too long in the morning.
---
Jan. 9th, 2023
Little has changed. She is getting frustrated with life in a kennel.
---
August 8th, 2023
It's been hot and Pearl has not enjoyed the heat. Even on nice days, she insists on going inside to her room (where it's air conditioned). When I release her from her bedroom to leash walk her out to the play yard she insists on taking a tour of the building, checking on each resident, looking around the kitchen, checking out the mop sink, then coming to stand by me to be leashed. So far she hasn't gotten into anything (not even the kitchen trash) she's just looking around. She LOVES playing with Brutus!
---
More will be added as care and training progress. To receive notices of updates subscribe below. It's painless and you can unsubscribe any time you want. Your e-mail address is used ONLY to deliver post notices. That's a promise!
Want to help save lives?
Everyone involved with PMFC is a volunteer,
no donated funds go to salaries or benefits.
We are 501(c)(3) – EIN: 84-3593563