I met this sweetheart Monday March 15th. We've been watching her for a while but didn't have an available apartment for her. Now we do. She is skittish, but willing to be friends – once she got used to me and as long as Lee was there. She gets along great with the NAC staff now. She's four years old and until Newport Animal Control rescued her she had spent her entire life in a dog box. Not a kennel, a hunter's dog box! She was terrified of everything and everyone at first, but she's learning to like this vast new world.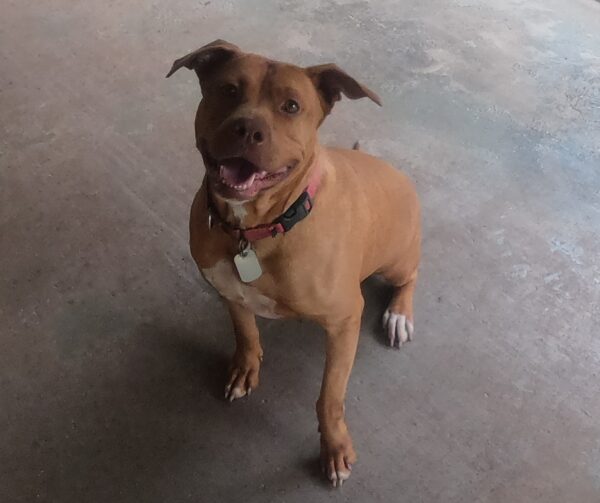 Last updated: Aug 15, 2023
Base Info
Arrival date: March 22, 2021
Breed: Staffordshire Bull Terrier
Sex: Female
Age: Adult
Birthdate: Jan 2017
Weight: 70.4 Pounds on Jan 15, 2021.
……………. 57.8 healthy pounds Aug 1 2023
Spayed/Neutered: Yes
General Health: Good
Temperament: Shy, skittish, easily frightened, but affectionate
SAFER Test performed: No
Available for adoption? YES | Rescue? YES
Departure date: Undetermined
---
Adoption Information
Start by submitting a completed Adoption Application (Now an on-line, mobile friendly form).
Contact information for your veterinarian is required and we will do a reference check.
If local (within @50 miles), schedule a meet-n-greet after your application has been processed. If you have another dog, bring it. A home inspection and interview will be done after a successful meet-n-greet.
If not local, adopter needs to contact a reputable rescue in THEIR area and request that rescue pull the dog from us after performing a home inspection and background investigation. You will then adopt the dog from them according to their policies.
Local adoption fee is $200.00 This includes spay surgery, vaccination against Parvovirus, Distemper, Adednovirus, Rabies, and Bordatella and a thorough de-worming. This dog has been microchipped and will be registered in the adopters name. Any health issues we found were addressed and are described below.
---
Progress Summary
Detailed notes are below
Relational Behavior
Relates well to other dogs: Yes. She avoids aggressive dogs, but will play rough with a dog who is not out to hurt her. She is also happy to just "hang out" with another dog.
Can eat food/treats near other dogs: Yes, she and Blade often enjoy a meal near one another.
Preferred style of play: She likes to run and bump and mouth-wrestle. She does this cute ninja spin to bash her opponent with her butt.
Is affectionate: Yes
Is good with:
. Men: Yes
. Women: Yes
. Children: Undetermined. Too rowdy for small kids.
. Cats: Undetermined
Jumps up on people: No
Mouths: No
Walks well on a leash: Yes
---
Commands
Comes when called: Yes
Sits on command: Yes
Down / Off: Most of the time
Shake / Paw: Yes
Kennels on command: Yes
---
House Dog Training
Not yet applicable
---
Diet
Victor Classic – Professional dry and Purina Pro Classic Ground canned.
PMFC Peanut butter cookies given as rewards for compliance.
Occasional snacks include:
* Milkbones
* Bil-Jac liver treats
* peanut butter stuffed bones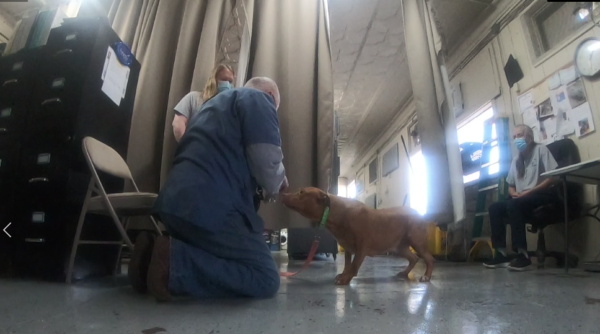 ​Progress Updates
March 23, 2021
Luna's first full day here has completed successfully. She stays in her bedroom on her Kuranda dog bed. Partly because her next door neighbor, Blade, likes to cow her by throwing himself against the tin privacy panel between them. NOISY! I'm going to replace that with plywood. That will take the fun out of it for him.
She has been out in the yard with me for walks several times. Trees creaking in the breeze and loud trucks rolling by on the hard road spook her at first, but she learns to ignore them. She walks well on the leash when using a Martingale collar so she can't pull out of it – which is her first inclination when she gets spooked: pull out and run away. But some petting and soothing words calm her down quickly and we resume the walk.
---
March 26
Two big steps taken today. First, while we were on a walk I dropped the lead and let Luna wander freely. In the past she was circling around my legs all the time, today she was going off a little ways to check out interesting smells in the grass. She stayed within 6 feet of me as I canvased the yard doing a poop pick-up. Then I got the pruners and did some tree trimming. While I was focused on that, Luna wandered off. She was way over by the fence, looking out toward the road out front. But she glanced back to be sure I was still where she left me.
When finished I called her. At first I got the tilt-head of confusion. But I started slapping my knees and calling her in a high pitched voice and she came trotting back to me. We walked back to her kennel. I bribed Blade to not scare her, and she went right inside and on through to her bedroom.
Later, while cleaning kennels, I gave Luna a bath. I used a bucket of soapy water and a wash cloth, not a hose, then towel dried her. She did really well with this, even licked my face to let me know she wasn't mad. She smells better too.
---
April 12
Luna has made a good deal of progress. She is no longer afraid to come out of her bedroom and is not afraid of other dogs coming up to her kennel to chat. She reacts well to friendly dogs. If one goes aggressive on her she will return the same.
She now responds enthusiastically to the "Come" command, (see video above) galloping all the way across the yard if need be. Just in the past two days Luna has mastered the "sit" command.
Her appetite is also much improved. She generally finishes her bowl of food within 20 minutes of receiving it instead of taking many hours.
---
April 21
I moved Luna from Apt 3 to Apt 1 yesterday. She took to the move well, no pouting or cursing like Blade did when I tried to move him once. Being in Apt 1 will help to socialize her because it brings her out of the back corner and into the Lime Light kennel. She needed the seclusion at first. But she's doing much better now. If things get overwhelming, she can always retire to the privacy of her bedroom. And she truly likes having a patch of sunshine to lie in in the afternoons. She never got that in Apt 3.
---
May 5
Luna has done well in learning her commands and is becoming more social. Not really friendly with anyone but me yet, but at least she is curious – wanting to come out and visit when we have guests who are playing with other dogs.
---
July 17
We have had a number of guests come through here lately – human and canine – and Luna has reacted to them in mixed fashion. Some she accepts readily, others she is quite fearful of. I'm not sure what determines her reaction as there is no common denominator that I can see.
---
Oct 5
Luna is still insecure around strangers, but she warms up quickly to those who will persist and allow her to get to know them on her terms. Once she's comfortable, she is quite affectionate and obedient. She is good at amusing herself with a chew toy, but has not chewed up her bed. She plays well with the other kennel dogs and Blondie Bear but HATES Callie Roo (one of our house dogs. I do not know why, but I suspect Callie stirs the pot with Luna. Callie is known to do that.
---
Dec 18
One of our Board members, Jennifer, has been coming in weekly to work with Luna. At first, she was skittish but once Jen sat down (to reduce the apparent threat she represented) Luna warmed up to her and quickly became affectionate. Luna's last name (Luvpitt) is appropriate because she is quite affectionate once she gets comfortable with someone.
I'm going to try various calming agents to see if we can't get her settled enough to the veterinarian for spaying.
January 2022
In January our resident manager was down with COVID and PMFC Board of Director members (and spouses and friends) came to pitch in and care for the dogs so Doug could heal. This experience proved quite beneficial to Luna as she was exposed to a variety of people repeatedly.
March 2022
A while back we moved Luna to Apartment 4, which is a split unit consisting of a mega-crate indoors and a good outside kennel (tile floor, not dirt). I did this because Luna is best suited to sleeping in a crate. And in fact she loved her new bedroom with a thick blanket folded up to snuggle into. But she did get jealous of Zoey being in her old home and would go over to harass her through the fencing, "Why are you in my house? Get out of MY house! That's MY house!" then she'd wander off. She'd had her say and was done.
As things evolved, Luna got her old apartment back and seems happy to be "home" again.
April 7, 2022
Luna was spayed today. She did really well. As she recovered, and was still a little drunk on anesthesia, she noticed a tiny newborn goat in the kennel across the hall from her. She kept the staff in stitches watching her try to figure out what kind of puppy that was.
Luna also passed her heart worm test. All results on the 4Dx text were negative. vaccinations are up to date and she's been microchipped as well.
August 15, 2023
Luna is a lovey, affectionate girl with those she has gotten to know. For most people earning her trust takes only a few minutes if done properly. She plays well with most other dogs but gets skittish with those who get too rough or demanding.
Luna should NOT be given plush toys. She ate one recently. I don't mean she tears hem up I mean she CONSUMED it. That caused a bowel blockage and we almost lost her. But with IV fluids and prayer she moved it through and was fine once again.
She does enjoy having a blanket to sleep on at night, I just pick it up in the morning so it does not become a toy and get torn up (and the scraps eaten).
[give_form id="24755″]
PMFC is a 501(c)(3) Charity
You can also support us at no cost to you with Amazon Smile
If you enjoy our pupdates, Doggy Tales, and educational articles consider subscribing for notices when new pieces are posted. It's painless and you can unsubscribe any time you want. Your e-mail address is used ONLY to deliver these notices. That's a promise!