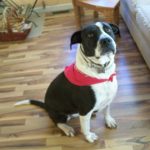 Two weeks ago Kathy got the first step in her heart worm treatment: Heartguard an oral medication that kills the baby heart worms in her bloodstream. The Doc also put her on Prednisone at that time.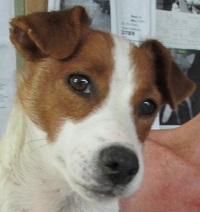 This morning HairyFace dropped Kathy off at the shelter to get her first Immiticide shot. She'll get her second one tomorrow. These go deep into the lower back muscle, and they hurt. They make us stiff and sore too. How sore depends on the dog: we all have different thresholds for pain. And it depends on whether we sat still or jumped during the injection. Jumping causes extra tissue damage.
The poison that kills the heart worms also makes us sick. Some will be affected only a little, others will be hit hard. Again this depends some on the dog and some on how bad the infestation is.
HairyFace went back this afternoon to pick Kathy up. He ran into Samantha outside and they talked about Kathy for a while. It seems many people had been in the shelter today and all of them fell in love with Kathy. She could have been adopted several times over today — if she were available, but she's not. A local couple have already laid claim to her. Sam said, "I put a bed in her crate for her, you can take that with you if you want."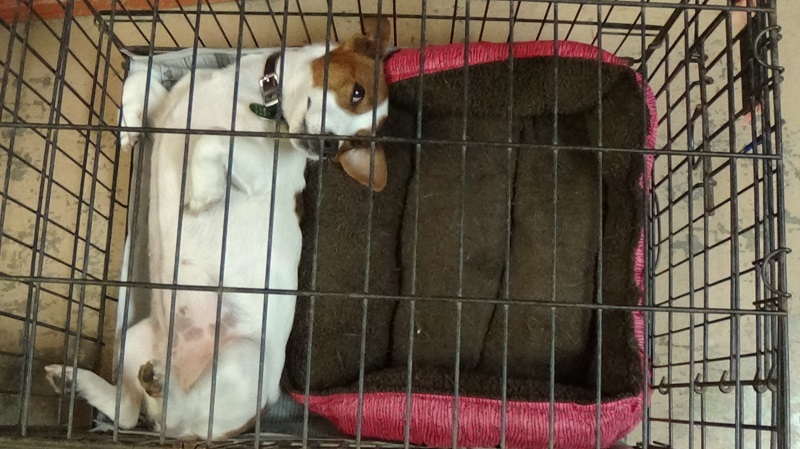 Inside, HairyFace found Kathy making herself right at home. Alicia (the Vet Tech) and a volunteer were standing nearby commenting on Kathy. They said she was sitting contentedly in her bed until she saw HairyFace, then she started 'working it'. Kathy is good at that!
Since she will be coming back tomorrow, HairyFace left the bed in the crate and Alicia tucked the crate away in the med room.
They went for a little walk before they got into the truck to be sure Kathy didn't need to go potty before they started the trek home.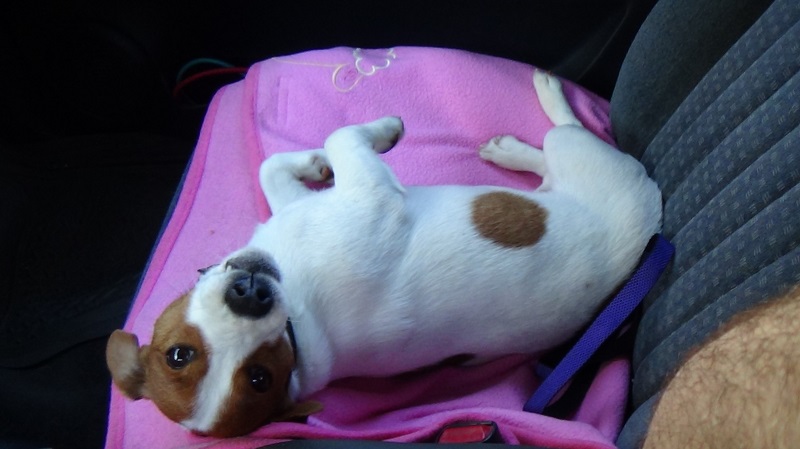 Normally dogs ride in the extended cab part of our truck, behind the seats. Kathy does too when NiceLady is riding shotgun. When NiceLady gets out at her office, Kathy moves up front. So HairyFace brought her blanket to keep dog hair off the seat (and thus off NiceLady's work clothes). Kathy started out on that blanket, but decided there was too much sun and it was hot, so she retreated to the basement.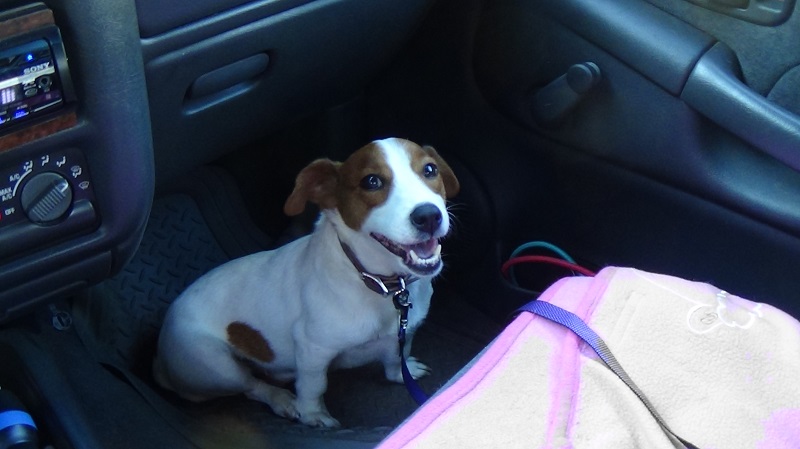 She rode down there until they got headed a direction that kept most of the sunshine from beating down on her. She tried to get into HairyFace's lap and insist that he scratch her, since he was sitting down (had a lap) and wasn't doing much of anything. HairyFace explained that driving was important and he needed to focus on that right now. She went back to her seat and rode there the rest of the way home.
When they got home, Kathy milked her condition for all it was worth:
Kathy_Immiticide day 1 from HairyFace Bittinger on Vimeo.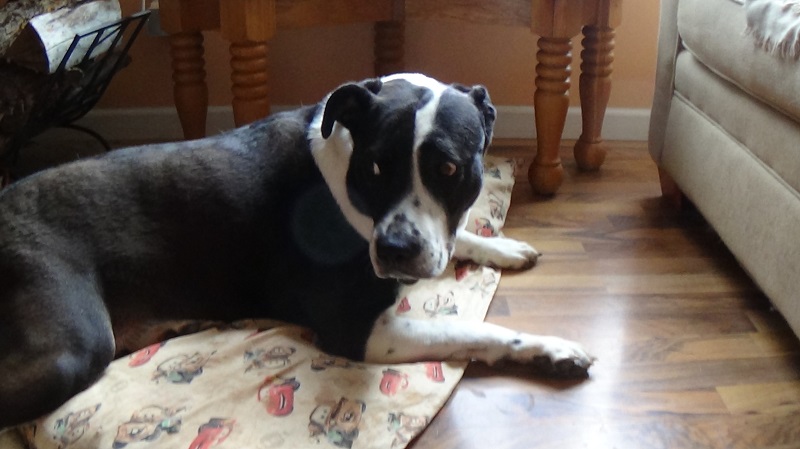 I got really put out by these concessions: she's breaking the rules AGAIN! How does she keep getting away with this when Blondie and I can't? Blondie got up and left the room. I glared at her until she decided to get down and find a legal resting place. She tried my bed, she tried her snuggle pup, she eye-balled the sofa, but I told her "no way." and she abandoned that thought. Finally she settled in to her most secure sleeping place.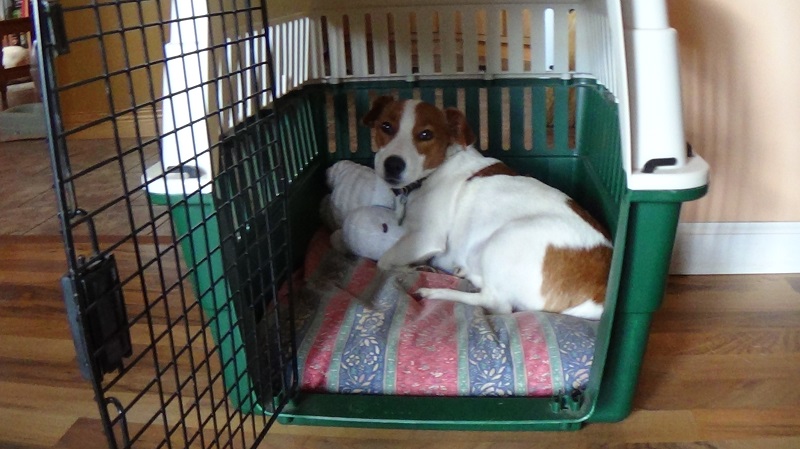 She slept in there, snuggled up to her Snoopy doll, most of the afternoon.
She was having a hard time getting comfortable, so she'd come out and wander around now and then, but ended up splitting her time between the crate and Snuggle Pup in the bedroom.
I hate to tell her that it will be worse tomorrow night after the second shot. She may bounce back in days, like Bristol did, or she may be sick for a while. I was miserable for weeks. Or, it seemed like weeks. I hope she gets over the yuckies quickly. She will be on activity restriction for the next 4 weeks. That means no more rough-housing with Blondie or running in the yard with me until she is recovered. Then she can ease back into full activity and will be ready for adoption.
---
| | | |
| --- | --- | --- |
| | If you enjoy our updates, Doggy Tales, and educational articles consider subscribing for notices when new pieces are posted. It's painless and you can unsubscribe any time you want. Your e-mail address is used ONLY to deliver these notices. | |