A happy, easy-going hound of a feller who just wants to be loved.

Last updated: June 7, 2021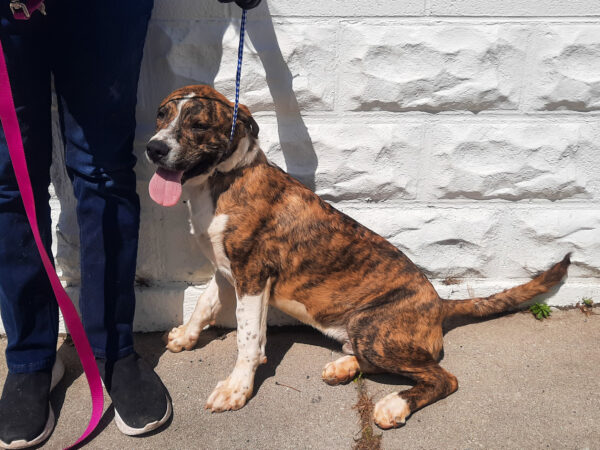 History:
Arrested for vagrancy by Animal Control in Newport TN, we know nothing about where he came from or why he was homeless. But he was a model prisoner in Doggy Jail so we sprung him and he's here to be gentrified so he can find a loving forever home.
Base info:
Arrival date: May 26, 2021
Breed: American Staffordshire Terrier
Sex: Male
Age: Adult
Birthdate: Est: Dec 26, 2019
Weight: 55 pounds on June 1
Neutered: Yes
General Health: Excellent
Temperament: A little rowdy but a happy, playful fellow.
SAFER Test performed: Yes – Passed
Departure date: Undetermined
---
Adoption Information
Submit a completed Adoption Application (Now an on-line, mobile friendly form).
Contact information for your veterinarian is required and we will do a reference check.
If local, a meet-n-greet is encouraged. If you have another dog, bring it.
An adoption Contract must be signed by PMFC and Adopter. This is a legal document and an actual signature is required. If the form must be mailed back and forth, allow time for that to happen. Electronic PDF is allowed if you can print/scan.
If not local, adopter arranges transport. We frequently work with HEARTS LLC (fees are paid to the transport service) but have other options available.
Adoption fee is $200.00 This includes spay/neuter surgery, vaccination against Parvovirus, Distemper, Adednovirus, Rabies, and Bordatella and a thorough de-worming. This dog has been microchipped and will be registered in the adopters name. Any health issues we found were addressed and are described below.
---
Progress Summary
Detailed notes and discussion are below the summary
Relational Behavior
Relates well to other dogs: Yes
Can eat food/treats near other dogs: Yes
Preferred style of play: Undetermined just wants to be petted
Is affectionate: Yes, quite so.
Is good with:
. Men: Yes
. Women: Yes
. Children: Older kids, yes. Probably to bouncy for little kids right now.
. Cats: Unknown
Jumps up on people: Doing much better now.
Mouths: Doing much better now. See June 7 notes below
Walks well on a leash: Yes but see May 28 notes below
Commands
Comes when called: Yes.
Sits on command: Yes. Picked this up from watching me with Blade.
Down / Off: Doing much better now.
Shake / Paw: Not yet
Kennels on command: Yes.
Diet
Victor Classic – Professional Dry Dog Food
1¼ cups plus 0 oz. home made stew AM and PM
PMFC Peanut butter cookies given as rewards for compliance.
Occasional snacks include:
Retriever Beef Basted Sticks
Jones Beef Hooves
Grillerz Pork Femur
---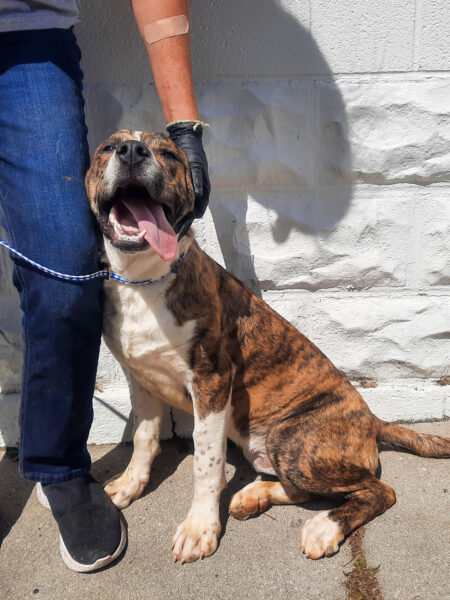 Progress Notes
May 27
Camo transported home from NAC well: no barking or thrashing around, no vomiting or fear voiding. It seems he likes to ride. He has met all of our gang and has no issues with any of them. Blade has an issue with Camo, but that's because Blade resents change. Blade is harassing Camo and will nip Camo's toes if he puts them up on the fencing between them.
Camo's first night here was not the best, but that's not entirely his fault. We had a full moon ( and it was orange: they call it a Blood Moon) and critters were running in the woods and other dogs on the mountain were barking. So Camo barked too. Everly got in on it, but I think she was scolding him, saying, "Shut up I want to sleep." But sleeping was something no one was doing, so I went out and lured everyone but Blade into their inside rooms and shut them in. I moved Blades water bowl outside and shut his door too just to maximize the muffle. We could still hear them, but it was much more subdued and we did get some sleep after that.
---
May 28
Last night went much, much better and I did not need to sequester anyone.
Camo went on a play-date yesterday. Another couple of ladies who also do dog rescue asked if Camo would come play with their Mr. Shorty, who needs socialization. We agreed. Mr. Shorty didn't feel like playing: maybe because Camo was still wearing his Kennel Funk cologne. So Deann and Amber offered to bathe him. He smelled much better afterward. And they fell in love with him.
Other Notes: It is my practice to put all new arrivals on a 12 foot lead until they learn the "come" or recall command. I can use it as a long leash, or let them drag it around for free play and recall training. But if they decide to play "can't catch me" I have a better chance of thwarting their game. When the dog will come when called I dispense with the lead. In Camo's case it was a hindrance right away because instead of wandering off he would do figure 8s around my feet, quickly hobbling me. I have a hard time getting him to wander off a few steps so I can get some photos. His favorite place to sit is between my feet. So we're not using the lead.
But when we went out to his play-date yesterday, he walked on his leash quite well and was a perfect gentleman … err … dog, through the whole thing.
---
June 2
Camo was neutered, vaccinated against rabies, and heart worm tested yesterday. His HW test came back negative, so he's all set. We just need to keep him from licking the incision. Dr. Greenen's notes say, " Heart: no murmur, even rhythm, Ears: minimal wax, canals healthy, Great body condition." I also gave him his second Parvo/Distemper vax when he got home while he was still subdued.
I let him ride inside the truck cab with me on the way home from Cedarwood Veterinary. He did very well.
---
June 7th
Camo has done very well with his training. He is super-eager to please so he trains easily, I just need to make it clear to him what I expect and he complies.
At first I had a lot of trouble with him jumping up on me and biting my hands. He was seeking affection, but going about it in the wrong way: probably a left-over behavior from poor training as a puppy. With some dogs it's really hard to break them of this once they are adults. Not Camo. I would just get him into "down/off" and "sit" (which he learned on his own from watching me work with Blade – that's how smart he is) I'd love up on him.
I remembered a trick the following day: when he started jumping and nipping, my hands went into my pockets or behind my back so he could not see them and he'd get no attention from me. When he got especially jumpy he'd go right back in his kennel and was done with that play session. He learned quickly not to waste his play times by being too insistent.
Camo left yesterday evening for a sleep-over at his friend, Mr. Shorty's, house. Mr. Shorty's family is thinking of adopting Camo and they want to see if he will fit in well with their current pack, so Camo is in a Foster-To-Adopt situation. They say it is going well so far.
---
Want to help save lives?
Everyone involved with PMFC is a volunteer,
no donated funds go to salaries or benefits.
We are 501(c)(3) – EIN: 84-3593563
[give_form id="24755″]