This is a foster dog diary post about Lego. New information will be added to the end of this post so all info on this dog is kept in one place and in chronological order.

Last Updated: March 31, 2017
Lego's History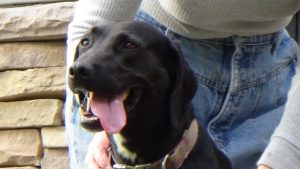 The story we got was that her family got another family dog after having Lego for almost 4 years. Lego did not get along with the new dog right away, so they got rid of Lego.
Intake Information
Arrived here: March 27
Breed: Black Lab
Age: 3 years (will be 4 in June)
Sex: Female
Spayed: Yes
Weight: @60 lbs
Health: Very good. Shots are all up to date and she looks great!
Personality: Energetic and playful. She LOVES belly rubs.