This is a foster dog diary post. Updates will be added to the end of this post rather than posted as a myriad of individual posts. That keeps all updates on Gator in one place and in chronological order.

The last update was posted: March 28, 2017 (photo gallery)
Individual Adventures:
Gator's Background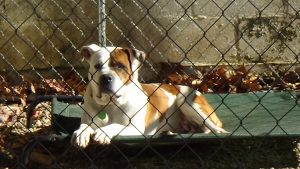 Being a Staffie, Gator needs a lot of attention and affection. He is happy to give the same, as well. He apparently wasn't getting that where he was living and be broke out of his fencing and went adventuring.