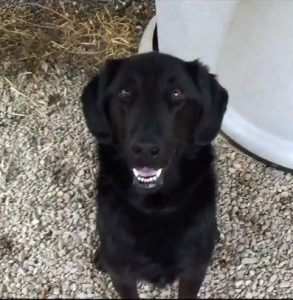 One of our recent foster dogs: Kingsley, wrote "home" to tell us of his latest adventure.
HI all … It's me Kingsley and I had such an exciting day … About a week ago NBC called FOWA Rescue to ask if I wanted to have a part in an episode of their new series "Unraveled" … so of course they said yes. So my foster mom Diane and my friend Shirley were there to watch me perform … Everyone said I was a natural … and everyone on the set was so nice to me …. Watch for when it premieres in the fall on the Investigation Discovery channel … I am not going to give the story away but this is me and the actors who played my family …It was a great day … lots of treats and attention … Not to shabby for a heartworm positive black dog from the south … Don't worry Jen , Brandy and Doug I am still the same sweet dog you knew when you saved me… and I am forever grateful you fought so hard to keep me alive …
Love and Licks – Kingsley
We knew him when
Kingsley came to us as a heartworm positive rescue dog from the Dr. Carol Hood Memorial Animal Shelter in Newport Tennessee for treatment of his condition and some behavioral training: he was excitable and unruly. He quickly became a favorite here because of his abundance of personality.