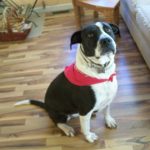 A padawan dog's first visit inside the house is often short. They get to come in and tour the food eating room and living room (which are essentially one large space), everything else is closed off. When they've got the lay of the land, so to speak, they go into their crate, get a nice chewie to amuse themselves with and we see if they can be calm.
Jasper is known for his high excitement acrobatics.
While he has calmed down A LOT since he first arrived here, we were expecting that he would not enjoy being crated and his first visit would be short.