Originally published November 14th, 2014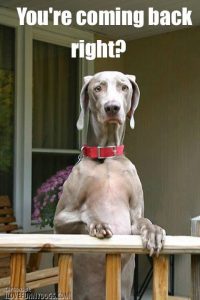 Your dog adores you. She follows you around and wants to be near you all the time. And that's wonderful – until you must go away. Then your dog howls or barks or chews on things until you return. This is called separation anxiety. Unless you can stay home 24/7 or take the dog with you everywhere you go, you must deal with this issue (or replace a lot of shoes and furniture and endure the wrath of neighbors). To make things worse, sometimes this condition is your fault. I know: I'm guilty too.
I was getting ready to go out in the yard and do some work. Marie was resting on the sofa. I informed Marie I was going outside and asked if she needed anything before I left. She said, "Just take Blondie with you: she goes spastic every time you leave the house."
Blondie has a mild separation anxiety issue. When I leave, she paces through the house peering out all the windows to see where I've gone.
Blondie is needy. She spent most of her life in an extremely neglectful situation and was totally withdrawn when she was rescued. We fostered her and helped her come out of her shell. We fell in love with the affectionate, silly girl she became and adopted her. Gun fire and thunder make her very nervous and she comes to me for comforting. I stroke her head to ease her anxiety. That's the wrong thing to do, but I've done it.
We spend all of almost every day together. Blondie follows me around like a golden shadow. Sometimes she comes and asks for skritchies, and I'll give them for a short time. She is accustomed to my being here, when I leave she gets anxious. But she's a good girl: never misbehaves, she just runs around looking for me. I'm lucky: many people have dogs that do bad things when they are left alone. If yours is one of them, here's what this is and how to deal with it.