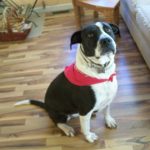 It was a sunny Saturday morning and there was extra excitement in the air. Saturdays are always fun because we get a fancy breakfast then HairyFace, Blondie Bear, and I go on a truck ride. But this morning it was a little different.
The evening before, HairyFace and NiceLady made us go out in the yard while they filled little bags with doggie treats to take to a craft fair that the Steele Away Home – Canine Foster and Rescue folks were hosting as a fund raiser.
This morning Hairy was loading the truck, but instead of the trash cans he was putting in folding chairs, the treats they made up last night, a metal bowl, a big bottle of water and some things I didn't know what they were.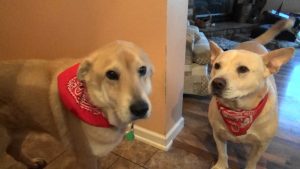 NiceLady brushed Tinker and ironed a red bandana and put it on him, saying, "You need to look extra spiffy today."
Blondie was jealous, so Lady put one on her as well. That made her happy.
After breakfast Blondie and I got all excited because we were ready to go ride in the truck, but Hairy said, "Not yet, Cochise. We'll do that later: when we get back from town."