This precious boy has obviously been someones treasured companion. He shows no aggression, is well behaved, knows some commands, and is housebroken. All he needs is a family to love him again.
Last updated: July 4, 2019
Base Info: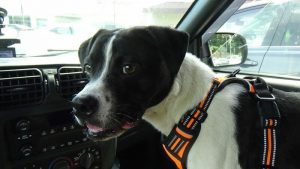 Arrival date: June 15, 2019
Breed: Boston Terr/AmBull mix
Sex: Male
Age: Young Adult, Mature, Senior
Weight: 31 Pounds
Spay/Neutered: Yes
General Health: Excellent, Good, Fair, Poor
Temperament: Affectionate, well behaved, gentle
Gets Along with Dogs: Yes (cats too)
Gets Along with People: Yes (even toddlers)
Housebroken/Crate Trained: Yes
Departure date: July 4, 2019
History
Picked up as a stray by The City of Newport Animal Control and not claimed, but this good boy has obviously been someone's house dog.
Progress Notes:
Detailed update notes on our foster dogs are posted regularly. For a listing of updates that include Lemaster [click here]. A summation is included below.