Bear was being fostered in Morristown, but that family just had a baby and they're afraid Bear is too rambunctious for their home now. He also needs to work on his interdogeral social skills. And people skills. And obedience. And …
Last updated: June 29, 2018 – Transport day
Base Info: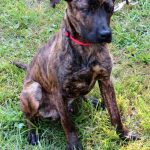 Arrival date: May 24, 2018
Breed: Plott Hound
Sex: Male
Age: 6 Months
Weight: Approx 35 pounds
Spay/Neutered: No
General Health: Good
Temperament: Rowdy and undisciplined. Seems to want affection, but goes about getting it in inappropriate ways. I'll help him with that.
History
Found on someone's front porch. They called Steele Away Home – Canine Foster and Rescue for help.
Bear went to 11th Hour Rescue on June 29th and has been adopted.
Known Issues & Progress
Bear has only just arrived. Clearly he needs lots of work. To avoid confusion with Blondie Bear, I'm calling him Little Bear.
People Skills
Doing much better now. He knows "off", "come" and "in your room". He now seeks affection in appropriate ways. He is smart and willing to learn, if someone will teach.
Gets Along With Other Dogs
Little Bear has met all of our dogs. He gets along well with Blondie. Josie is spooked by him and retreats indoors when I let him out. He and Rainy want very much to play and would make a good play pair, but Rainy is on activity restriction, so I have to keep her inside when he comes out. Bear has dishonorable intentions toward Lucky (unaltered female) which she does not appreciate. Sometimes Callie is okay with him, sometimes she wants to be left alone.
Housebreaking
No. The house is full.
Miscellaneous
Now that he has a neighbor to keep him company he is quiet at night. He wants out to play with the others during the day, so he yaps a lot. Being a hound, things moving around in the woods will set him off too. That's normal.
Gallery
In roughly chronological order, newest at the bottom. Click the thumbnails to enlarge.
Some pictures are linked to Doggy Tales or videos about Bear, click those to open the related story.