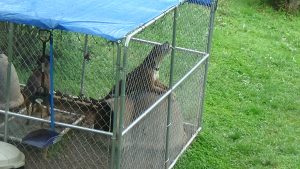 When our current gang of foster dogs arrived, the nights were not silent.  Definitely not silent!  Rocky and Blaze were vocal day and night.  They barked at anything they could see or hear moving around, they barked at other dogs on the mountain, even quite distant dogs, who were barking at something or just being conversational.
Their first few nights here were exhausting for I had to keep going outside to sit near their kennel to convince them to not bark — and awake our neighbors.  Thank God it was spring, and warm enough I didn't freeze out there!
After a few nights they caught on and were far less vocal at night.  And that trend has only improved since.