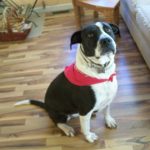 It was a sunny Saturday morning and there was extra excitement in the air. Saturdays are always fun because we get a fancy breakfast then HairyFace, Blondie Bear, and I go on a truck ride. But this morning it was a little different.
The evening before, HairyFace and NiceLady made us go out in the yard while they filled little bags with doggie treats to take to a craft fair that the Steele Away Home – Canine Foster and Rescue folks were hosting as a fund raiser.
This morning Hairy was loading the truck, but instead of the trash cans he was putting in folding chairs, the treats they made up last night, a metal bowl, a big bottle of water and some things I didn't know what they were.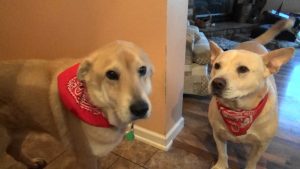 NiceLady brushed Tinker and ironed a red bandana and put it on him, saying, "You need to look extra spiffy today."
Blondie was jealous, so Lady put one on her as well. That made her happy.
After breakfast Blondie and I got all excited because we were ready to go ride in the truck, but Hairy said, "Not yet, Cochise. We'll do that later: when we get back from town."
What? That's not how it's supposed to work! But he was adamant, so we let him have his way.
When they got back, Tinker told us all about his adventure in town.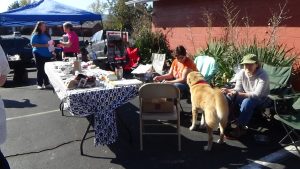 Hairy, Lady, and Tinker hung out with a bunch of people they know who are all involved in canine rescue. Some of them Tinker remembered from when he was living at the shelter: they used to take care of him. There were a lot of other people that he didn't know there too, but they were all nice to him: petting him and saying what a good boy and what a pretty boy he is. Some of them are fans of his through my Facebook page and follow along with his adventures. Lots of Peoples (especially the ladies) were loving on him because he is so sweet and his fur so soft. He's definitely a romeo dog: the girls see him and just fall in love.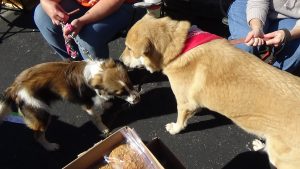 He also met some new dogs. One, Sampson, was surrendered to the group right there at the fair. His mom was a nice young lady and said it was hard to let him go, but she was having trouble and didn't think she could care for him properly. So Sampson is now a Steele Dog. He's an Australian Shepherd/Border Collie mix and is super bright. He's young and energetic, but Tinker liked him.
There were a bunch of other dogs there who were wearing strange clothes. Someone said they were dressed up for howling-ween. We don't know what that means: it must be some strange city-folk thing.
They stayed at the fair until Tinker got uncomfortable with the sun and asphalt. There, was a patch of trees and grass nearby, and Tinker convinced Hairy to take him there a half-dozen times to pee and get out of the sun. But he'd get lonely and want to go back where the Peoples were. He'd finally had enough and said, "I need to go home." So they packed up their stuff and got back into the truck.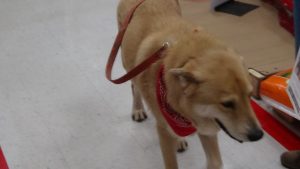 But, instead of going home, they went to Tractor Supply, because Blondie and I are out of kibble. I'm SO jealous: I LOVE tractor supply!
There were Peoples there too, and they loved on him – and the floor was smooth and cool, and they were out of the sun, so he was happy. There were lots of interesting things to see and sniff, and (naturally) he behaved perfectly.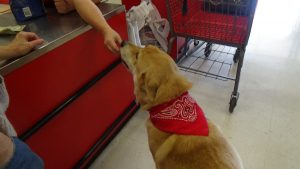 When they went to the pay-for-it place, the lady there gave him treats. She commented about how gentle he was. You never have to worry about losing flesh handing a treat to Tinker!
Then it was back into the truck, and they came home. Tinker sat with his nose out the wing window, sniffing the smells as they drove. When they got close to home, he recognized some of the smells, got excited and stood up, "We're almost HOME!" He never jumps around or gets nutso in the truck. He's a great rider.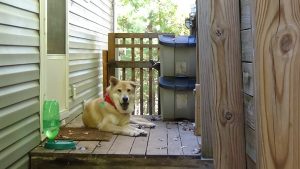 HairyFace got him out of the truck, walked him into the play yard, removed his leash … and went back to the truck. Tinker said, "Hey! Where are you going? You need to come open the door so I can go inside."
But Hairy went back and carried a load of stuff from the truck back to the house. THEN he opened the door and let Tinker inside before going back for another load.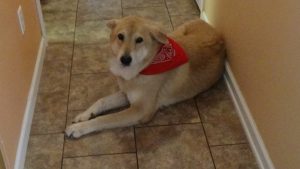 That was okay with Tinker: he settled in on the cool floor of the hallway and sighed, "Ahhhh … it's good to be HOME!"
| | | |
| --- | --- | --- |
| | If you enjoy our updates, Doggy Tales, and educational articles consider subscribing for notices when new pieces are posted. It's painless and you can unsubscribe any time you want. Your e-mail address is used ONLY to deliver these notices. | |