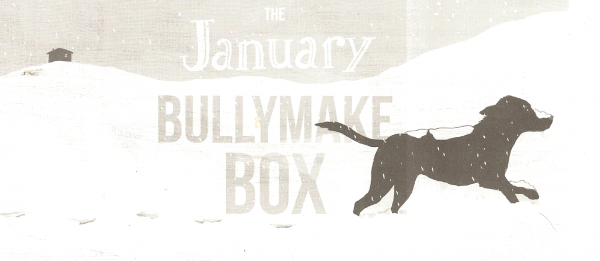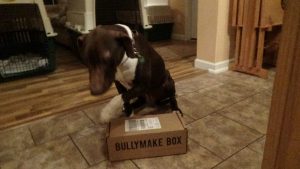 Last week we received a Bullymake Box in the mail. We assume it's a gift from a fan of Cochise and his gang of furry fosters. Very likely is is primarily for Gator.
I planned to do one of those cute unboxing videos with all the dogs, but it quickly became clear that that was not going to work for a variety of reasons: not the least of which is that my crew is NOT good at sitting still in posed positions around a box of yummy treats while I take a photo or video.
What is Bullymake?
Bullymake Box is a monthly subscription toy and treat service designed for power-chewer dogs (thus the suspicion that Gator as the intended recipient). The subscription can be tailored to the dog's size and is available as a 1 month, 3 month, 6 month or 12 month subscription. Naturally the cost decreases as the subscription length increases. Subscriptions are pre-paid when ordered. Costs are from $39.00 for a single box to $31.00 per box for the 12 month subscription. Each box contains 5 or 6 toys and treats, and any allergies your dog has are considered when your box is hand packed.
What's In Ours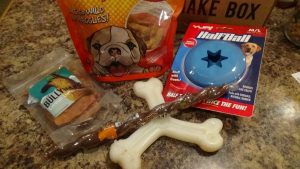 This was the January 2017 box and it contained two bags of real meat treats: a 3 ounce bag of Bullymake German Chicken Fillets, and a 6.5 ounce bag of Loving Pets Waggles (chicken skins). Both claim to be 100% natural, with no preservatives and grain free. Instructions on the Waggles begin with, "To avoid being pounced on in anticipation, open this bag far away from your dog." Good advice.
Also included is a 12 inch Turducky Twizzies chew stick from Emerald Pet Products. No information is listed on the label as to it's ingredients but the Emerald web site says, "Smart n' Tasty Twizzies are limited ingredient, all natural, grain free lasting chews high in protein and 100% digestible." Actually it says much more than that, use the link to learn more.
The toys are guaranteed to last at least 14 days or they'll be replaced for free. This box included a YUP! Half-Ball toy and a Bullymake Tri-Chew toy.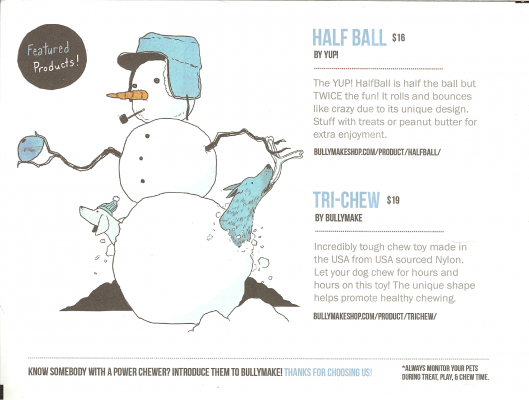 Bullymake Tri-Chew toy
At first, the only one interested in the Tri-Chew toy was Gator, and he LOVED it! But once everyone else saw how much he likes it, our other power chewers gave it a try as well.
Since Gator is our current champion Power Chewer, that is appropriate that he gets the most use of this toy. But he's okay with sharing too.
YUP Half-Ball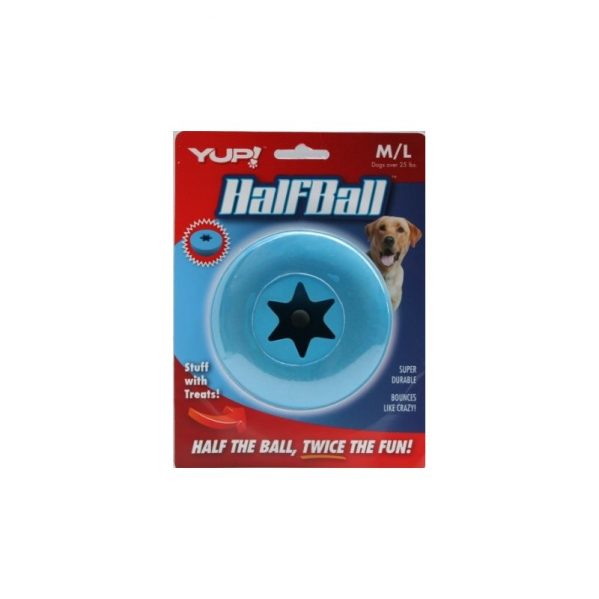 The Half-Ball is made of a soft rubber-like material and has a star shaped hole in the flattened side where you poke treats into the ball for your dog to try and remove. We have had good reception from our dogs with other puzzle ball toys so I expect this will be a hit as well. Not only is it a puzzle, but it bounces!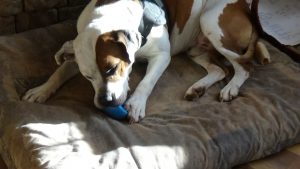 I poked two medium size dog biscuits inside and bounced it across the living room. Gator chased after it gleefully. But when he found it had FOOD inside his intentions changed and he settled in to work diligently at getting those cookies out. That kept him fully occupied for around 2 hours. That's a pretty good play session for this boy.
This can no longer be used as a treat ball, but Gator still enjoys masticating it and ripping pieces off. Since he does not eat the these bits, I'll let him keep playing with it. It still makes him happy and keeps him occupied, so I'd say it's still serving it's purpose.
Real Meat Treats
The Waggles and the Chicken Fillets are a major hit all around. Each one lasts only a few seconds, but they are met with great anticipation. We reserve these for special treat times.
We have not yet opened the Turducken Twizzie: no need to get everything out in the first two days! I'll add notes on that when we do.
Blondie Bear liked Bullymake so much that she wanted to try her hand (errr… paw) at acting in a commercial for their product. Here is what we produced. We did send it to them but never heard back or saw it used, so they must not have liked it. But we did.
---
| | | |
| --- | --- | --- |
| | If you enjoy our updates, Doggy Tales, and educational articles consider subscribing for notices when new pieces are posted. It's painless and you can unsubscribe any time you want. Your e-mail address is used ONLY to deliver these notices. | |