Today I continued my task of digging a grave.  A grave for a snake.  A big snake: the infamous Drainaconda!  But I wasn't working alone, oh no, I had plenty of "help".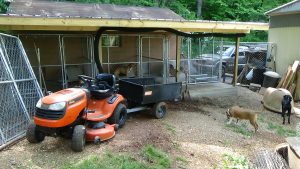 We didn't all show up at one time.  My crew straggled in one or two at a time, beginning with Callie and Lennon, who wandered over to see what I was doing as I was setting things up and positioning the wagon for dirt hauling.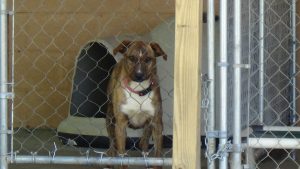 When I started digging, Sable stood and watched me for the longest time!  I'm not sure if she was impressed by my digging prowess or amazed by the mess I was making.
In a while she decided to go off duty and settled in to watch less critically.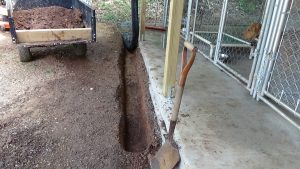 I got the ditch lengthened by another 9 feet, which was a good stopping point for me, so I stopped.  This is hard going because the area I'm digging in had been a driveway and is a mixture of red clay and gravel – mudcrete!  Because of the rock I cannot take the soil over and dump it into my garden (where I could use some soil) so I'm finding hollows and pits in the so-called "lawn" to fill and seed.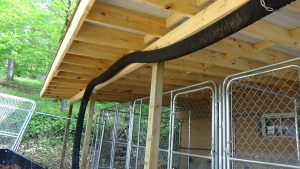 Next I got up and untied Mr. Drainaconda from his position in the "trees".  I keep him tied up there to be out of the way so I don't accidentally step on him and crack him and the dogs don't tear up the "sock" that surrounds him.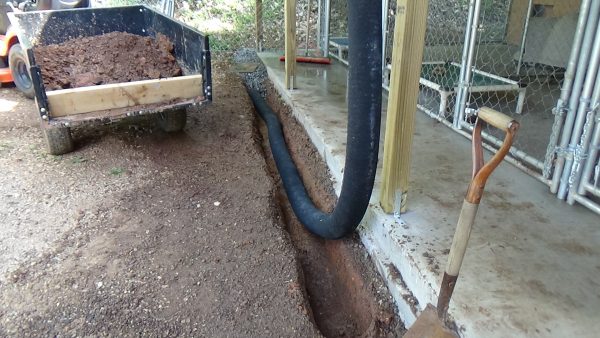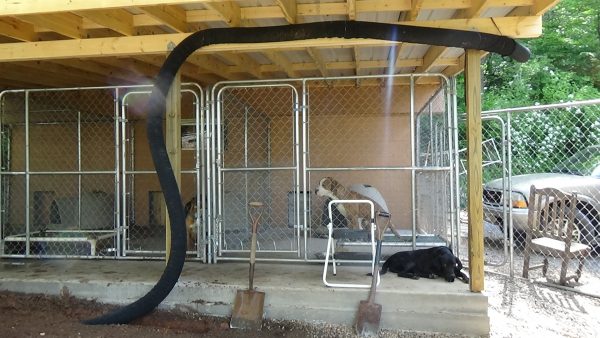 Then I wheelbarrow in a few loads of clean gravel from the pile out in the driveway to cover over the drain line.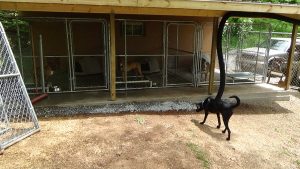 The gravel allows water to pass freely through so it enters the perforated drain pipe and is carried around and away from the concrete pad.  This should keep rain run-off coming down the mountain from running over the concrete even in a heavy rain.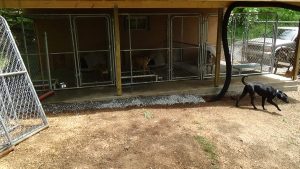 The final step in this process will be to dig over to where another buried drain line runs across the end of the old mobile home that is my shop and the dog's bunk house, dig that up (carefully) and splice this line into that one with a Y connection.  Then all this run-off will get carried across the yard and out to the drainage ditch that runs alongside the shop driveway and down to the roadside ditch.
That will complete the final step of exterior construction on the new kennels – other than a little trim painting.  Then I'll cool my heels and get back to lawn maintenance (badly neglected of late), gardening, and dog training until I have funds available — and lumber removed from inside the lumber shed turned kennel — to proceed with constructing the inside portions of these kennels and renovating the interior to be comfortable and useful.
See ya then!
| | |
| --- | --- |
| If you enjoy our updates, Doggy Tales, and educational articles consider subscribing for notices when new pieces are posted. It's painless and you can unsubscribe any time you want. Your e-mail address is used ONLY to deliver these notices. | |