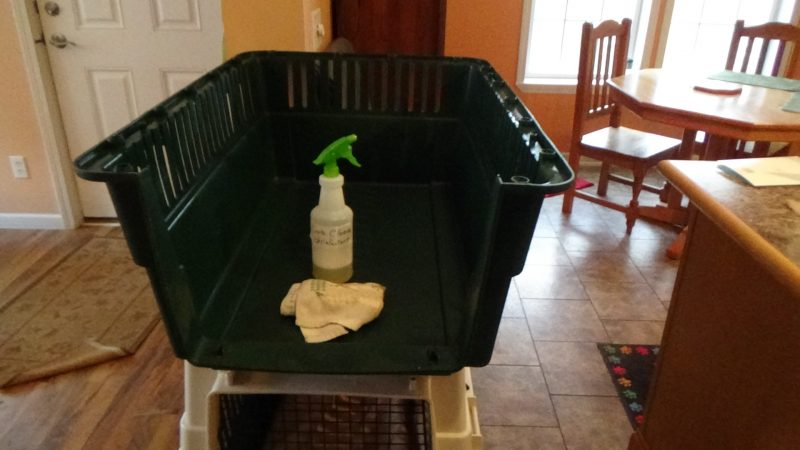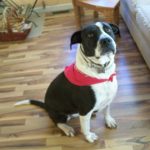 The weatherguessers were saying it was going to get cold. Too cold for Spencer to be outside: he needed to come inside with the rest of us for the night.  That is not a problem, but it does mean some rearranging needs to be done.  Spencer is a big boy and needs appropriate accommodations.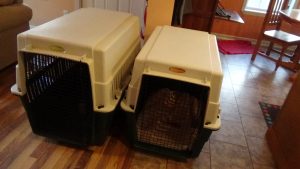 We have three Retriever brand transport boxes that we use as crates. There are several reasons for that.
We have tried the wire crates and had poor luck with them keeping dogs contained.  We foster bigger dogs, wilder dogs: dogs who can, if they decide to, rip right through a welded wire crate.  Not so with these.
Especially with insecure dogs, their crate needs to be a "safe place" for them.  This more enclosed version is easier to create that safe place.  Covering a wire crate with a blanket works too, but all too often the dog will snag the blanket and pull it into the crate.  Or try to.  More often than not the blanket gets shredded and the crate bars bent and or broken.
Being transport crates, when my Peoples need to transport a dog that is too unruly to have inside the truck with them, they can use the appropriate crate, strapped into the truck bed with a tie-down and it will be protected from flying debris and wind.
Gator has been using the large crate.  He needed more space than Cora did.  Cora did not agree with that, and frequently went into Gator's crate to rest, but it was Gator's room.
Now that Spencer needs a place to stay, at least for a night, HairyFace needs to swap things around.
When Cora left, Hairy broke down her crate, and the small crate that Bud had been using, scrubbed them out, and stowed them in the workshop.  He brought the medium crate back, assembled it (the two halves are joined by a series of toggle bolts, so assembly and disassembly are quick and easy), moved Gator's blankets into the medium crate and put it in the place Gator is used to his room being.
This was done while Gator was outside playing.  If he's noticed his room has shrunk a little, he hasn't said so.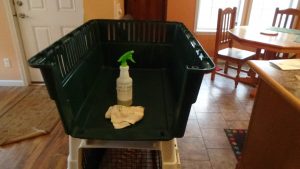 Once Gator's room was done up, Hairy broke down the large crate (so he didn't have to crawl inside to clean it) and scrubbed it out with a cleaner/disinfectant solution.
This is not because Gator has anything contagious, it's just a precaution.  And it's good to clean things from time to time to avoid any build-up of grunge that would be that much harder to remove if left until Gator moves on to his next home.  And because getting Gator's scent out of the crate reduces Spencer's need to "claim" his room by peeing in it.
Most dogs won't defile their own bed, but Spencer has been peeing in his kibble dish when he's finished and pooping on his Cooleroo bed.  These are attempts to say, "This is mine" even when no other dog goes into his pen.  If he has these insecurity issues, we want to lessen his need to make his bed his own by covering a resident scent.
A fresh, clean blanket, folded for cush,  completed the arrangements.  NiceLady brought him a new, special chew toy to help occupy him for the evening.  We were ready.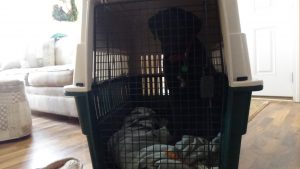 Spencer came in, settled into his room, had dinner when we had dinner, and slept through the night.
The next day, once the temperatures were up and the sun was shining, Spencer went back to his pen to enjoy the fresh air, sunshine and extra elbow room.
He won't need to come inside at night for a while, but if he wants to, he's welcome.  He was a good house guest and the crates are swapped around so we can easily accommodate him now.
| | | |
| --- | --- | --- |
| | If you enjoy our updates, Doggy Tales, and educational articles consider subscribing for notices when new pieces are posted. It's painless and you can unsubscribe any time you want. Your e-mail address is used ONLY to deliver these notices. | |