We sprung Lemaster from doggie jail this morning and made his getaway run into quite an adventure.
Okay, we did not break him out, we pulled him for Steele Away Home Canine Foster and Rescue, and did it all quite legally.  But he was glad to be out of jail just the same, and gave us lots of kisses to prove it.
Once we got him fitted with a proper harness and leash we walked him out to the truck.  I opened the door and he hopped right up into the drivers seat, "In the back peasants, I'll drive this rig."  But we worked out a compromise.  I put him in behind the seats and he decided that sitting on Marie's lap was a better idea!  He was still attached to his safety tether which is bolted to the floor, so he was safe from flying forward in a sudden stop, and he was sitting pretty still, so Marie allowed it.  He's just so CUTE, she couldn't deny him.
Our first stop was the annual Moonshine Rod Run car show in Newport's City Park.  Always a great car show, they broke the record this year with 518 cars on display — and that was before 11:00 am!  Hard telling how many they would total by day's end because they filter in until early afternoon.
Lemmy was interested in the cars, but mostly (I think) because of the Go-For-A-Ride potential.  He did seem particularly interested in a black 1929 Nash sedan.  You're going to have to trust me on the car year and make.  It was an impressive vehicle, I wanted to go for a ride in it myself!
Lemaster met many people at the show, some very tall, some very short.  The shortest was a towheaded cutie with pigtails.  She could not have been over 3 feet tall.  She weebled over, squealing in delight, and threw her arms around Lemaster's neck to hug him.  Lemmy licked her ear and took it all in stride.  Her mom said the weebly one loves dogs and does that every time she sees one — even one on TV.  I think we've seen a dog rescuer in the making.
Normally we buy lunch from the church/vendor at the show and eat at the tables in the pavilion but with Lemmy in tow, that was going to be difficult.  So we went back to the truck, gave him a good drink of water, loaded up, and went to Food City.  Lemaster and I stayed in the truck to watch the parking lot while Marie went in to buy us a picnic lunch.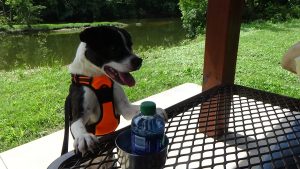 We took the lunch and went to the new Park-N-Float on the Pigeon River.  It's always quiet there as well as pretty.  Normally we eat in the truck, but again Lemaster's presence suggested that might not be wise.  So we went to the covered picnic table and ate there.  After all the walking Lemmy did at the show, he was famished.  Marie bought some chicken ball dog treats and a rawhide donut for him.  He wasn't too impressed with the donut, but he LIKED the chicken balls!  This was where we discovered that he knows the "sit" command and executes it perfectly — for a treat.
After lunch we walked around a bit, gave Lemaster a chance to check out the river.  He dipped his toes in the river, and that was enough:
He preferred to sniff the rocks and grass.  He did pose for one special shot: sitting on a big rock with the river in the background.
Then it was back to the truck to start the drive home to Piney Mountain.  He again sat with Marie.
Once we were back at PMFC, the kennel dogs all shouted greeting to the newbie.  The newbie was a bit intimidated by the bigger dogs and all the noise they made, but he got past that since they were secured.  He explored the yard for a bit and I discovered that he does NOT respond to the "come" command.  We'll work on that.
Going in the house made Lemmy really happy.  I took him in the den, where I would be working for a while and he flopped on a cushy dog bed and stretched out for a belly rub.  He was in heaven!
Before we left the house that morning I'd set up a transport box as his "room" until we could find out how he was
going to behave and if he would get along with the other dogs.  He wasn't crazy about being crated, but once in there he settled quickly and started working on the donut Marie bought him.
After a while he started fussing and I took him outside on a leash.  He peed and pooped and headed for the door to the house.  Yep, he knows this routine.
When we came back in I left his crate door open.  When he got tired of his donut he came out to try lounging on the cushy dog bed and chewing a different chew toy.
He's been hanging out with me in here since then.  He has alerted me twice of a need to go out.  He did produce both times, but I got the feeling the second time was more of a desire to check out the play yard again.
He has met all the house dogs and they all seem to get along.  For now he's confined to the den by a baby gate.  He can see, sniff, and converse with the others, but not go flouncing around the house.  Not yet.  We'll do more with that tomorrow.  I have another event to attend this evening.
I'd say it has been a really good day for Lemaster.  And for us.  He has our hearts already.
This stay is short term.  Lemmy can flop here and hide out until his safe house accommodations are ready, then he'll make a break for another state, pick up a new identity, and settle where he's safe from the doggy police … to carry my fictitious allusion to it conclusion.
I do not think it's going to be hard to find this adorable lover a forever home!
| | |
| --- | --- |
| If you enjoy our updates, Doggy Tales, and educational articles consider subscribing for notices when new pieces are posted. It's painless and you can unsubscribe any time you want. Your e-mail address is used ONLY to deliver these notices. | |