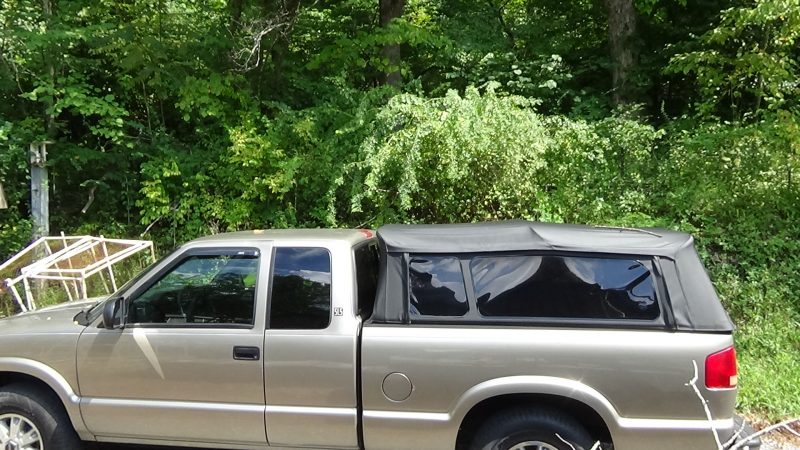 We have a pick-up truck that I use for hauling dogs around.  I can strap down three hard-shell  transport crates in the back.  Most dogs start back there.  When I feel they will behave, they get to ride in the club cab behind the seats, or on the passenger seat up front.  I can put two large dogs behind the seats, if they get along well, one on the seat and three in the back for a total of six dogs at one time — should I ever need to do such a thing.  The max I've carried at one time so far was 5.
Lennon had his first ride inside the truck with me today – normally he rides in a transport box in back because he's kind of … active.  We were headed to Kathy's Grooming Parlor for a medicated bath and he has been doing better at being calm, so I decided to let him try.
I started with him behind the seats, but even before I got out of the driveway it was clear he was gnawing through the tether that keeps him from bounding around in the cab (and keeps him from flying forward in a sudden stop).  I need to replace that woven tether with a length of light chain.
I quickly reconfigured and brought him up to the passenger seat. If he was going to try to climb on top of my head while I was driving I'd just have to pull back in for a transport box. But he didn't. He DID try to gnaw through his seat belt (safety strap). I scolded him. He decided to chew on the console. I scolded him. He chewed on some pens. I scolded him.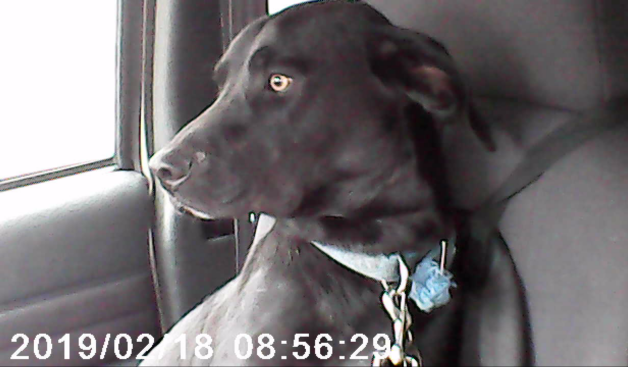 Finally he just sat up and pressed back against the seat and watched out the window. I praised him and scratched his head.
While he was being groomed I went to Tractor Supply for fostering supplies and I bought him a small pig ear to gnaw on during the ride home.
When we got in the truck I laid the pig ear at his feet. He glanced at it then stared out the window. I picked it up and showed it to him. He turned his head and looked the other way. "I'm not falling for that, you'll scold me if I chew on it."
So I put it up against his teeth. He opened them a little and I slid it into his mouth. "You may chew on THAT, that is what it's for."  If he had eyebrows they would have raised a bit, "Really? I can chew this?"
So he laid down on the seat and got to work. He was still chewing on it when we got home, so he took it back to his room.  Lennon LIKES pig ears!  And he like civilized truck rides.
| | |
| --- | --- |
| If you enjoy our updates, Doggy Tales, and educational articles consider subscribing for notices when new pieces are posted. It's painless and you can unsubscribe any time you want. Your e-mail address is used ONLY to deliver these notices. | |