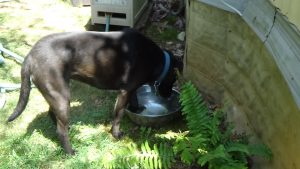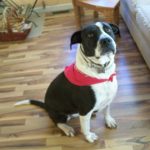 NiceLady has bought us a couple of Coolaroo's to lounge on. They are cool and comfy in the summer heat. Lulu isn't much interested in those. She walks across one now and again but does not stop to lie down. She does, however, wade into the big water dish as though she wished it were a pool.
Nicelady took the hint and bought her a small pool. This thought was further facilitated by Tractor Supply Company putting their doggie pools on sale this weekend.
Lulu is a Labrador Retriever mix so it should be in her blood to enjoy the water. It is unlikely that the rest of us will make any use of it. Although, if there are no Peoples standing there with a bottle of shampoo, Blondie might enjoy it too. She is part Yellow Lab and has gone splashing through local creeks when she's gotten out and run off. That was before the Peoples built our Petitentiary (a.k.a. Play Yard) that does a good job of keeping us in. Most of us anyway. Jasper the Flying Dog could go over it any time he wanted, but he seems to have lost that desire.
I have NO interest in a pool. Jasper: maybe, but probably not: he's not fond of being wet either.
Lulu's Pool-a-roo
Hairyface found a sort-of level spot for the pool and put about 3 inches of water in it. He hoped shallow would be fun, not intimidating – and easier to dump out at the end of the day. Then they let Lulu out of her pen to see what she thought of it.
This was about as close to an honest tail-wag as we've gotten from this abused girl yet.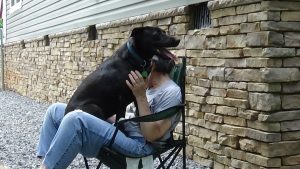 After many trips though the pool and sessions of lounging in the grass, Lulu decided she wanted to be a lap dog. A 60 pound lap dog, but hey … who could deny this sweetheart? She's coming out of her shell nicely.
---
| | | |
| --- | --- | --- |
| | If you enjoy our updates, Doggy Tales, and educational articles consider subscribing for notices when new pieces are posted. It's painless and you can unsubscribe any time you want. Your e-mail address is used ONLY to deliver these notices. | |