Originally Published Sept. 27th, 2014
Piney Mountain Foster Care is a fancy name that Marie and I have adopted for the efforts we make to help save dogs. All of our funding has come from our own pockets. The shelter or rescue the dog comes from provides needed medications, we buy the pens, dog houses, crates, bedding, dishes, treats, and toys. We also erected fencing to provide a contained space for training and play.
The Current Play Yard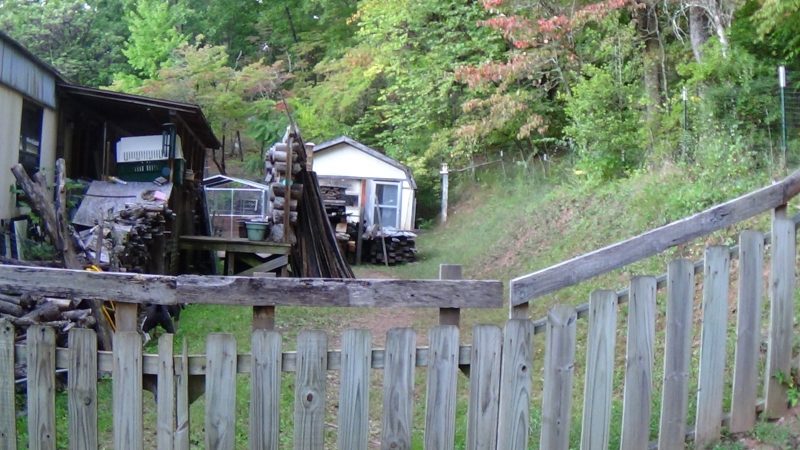 Our current foster play yard is the space that also serves as the driveway to my workshop loading dock and lumber yard. It serves the purpose of giving the foster dogs some space to run and play. A place to work at training that cannot be done in their 10 x 10 pens. We installed Critter Fence along The Ridge to keep them in this space and that serves the purpose – as long as they're not too determined in finding a way out. It can be thwarted! I amended the original wooden fence and gate across the driveway to give it enough height to keep the leaper/climbers in.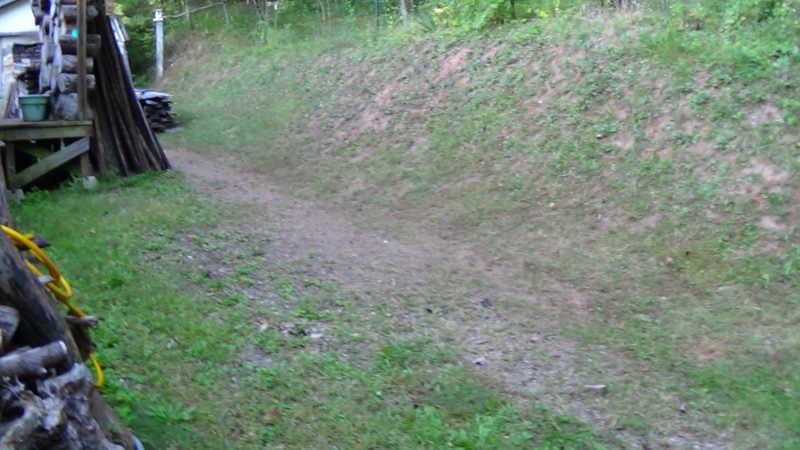 There is some grass, but it's mostly gravel and slope. They don't seem to mind: they're just happy to get out of their pens and run a bit. A 10×10 covered pen with a dog house is better than they're used to, but even that gets confining if you have to stay there.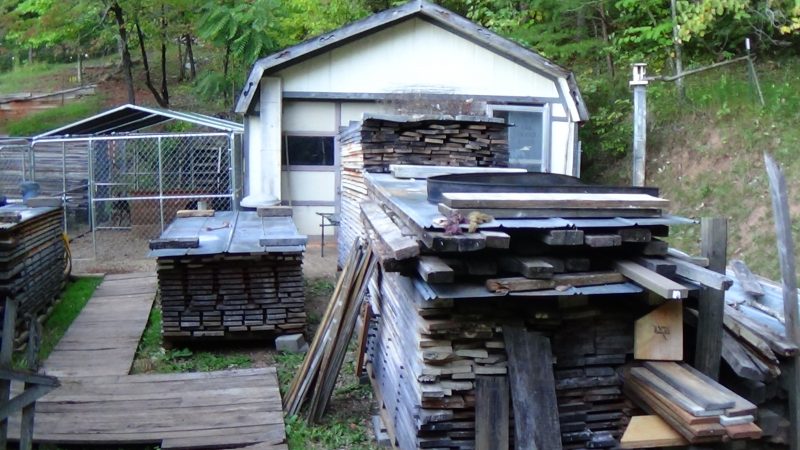 It does get mucky out here when it rains, so I built a boardwalk to keep all of us out of the muddiest part.
Currently we have two pens. As I sell off the lumber piles, we'd like to add more pens, but that would eat into the play space. So we have a plan…
The Planned Play Yard
On the other side of the mobile home that is my workshop, is a large open space that would make a wonderful play space.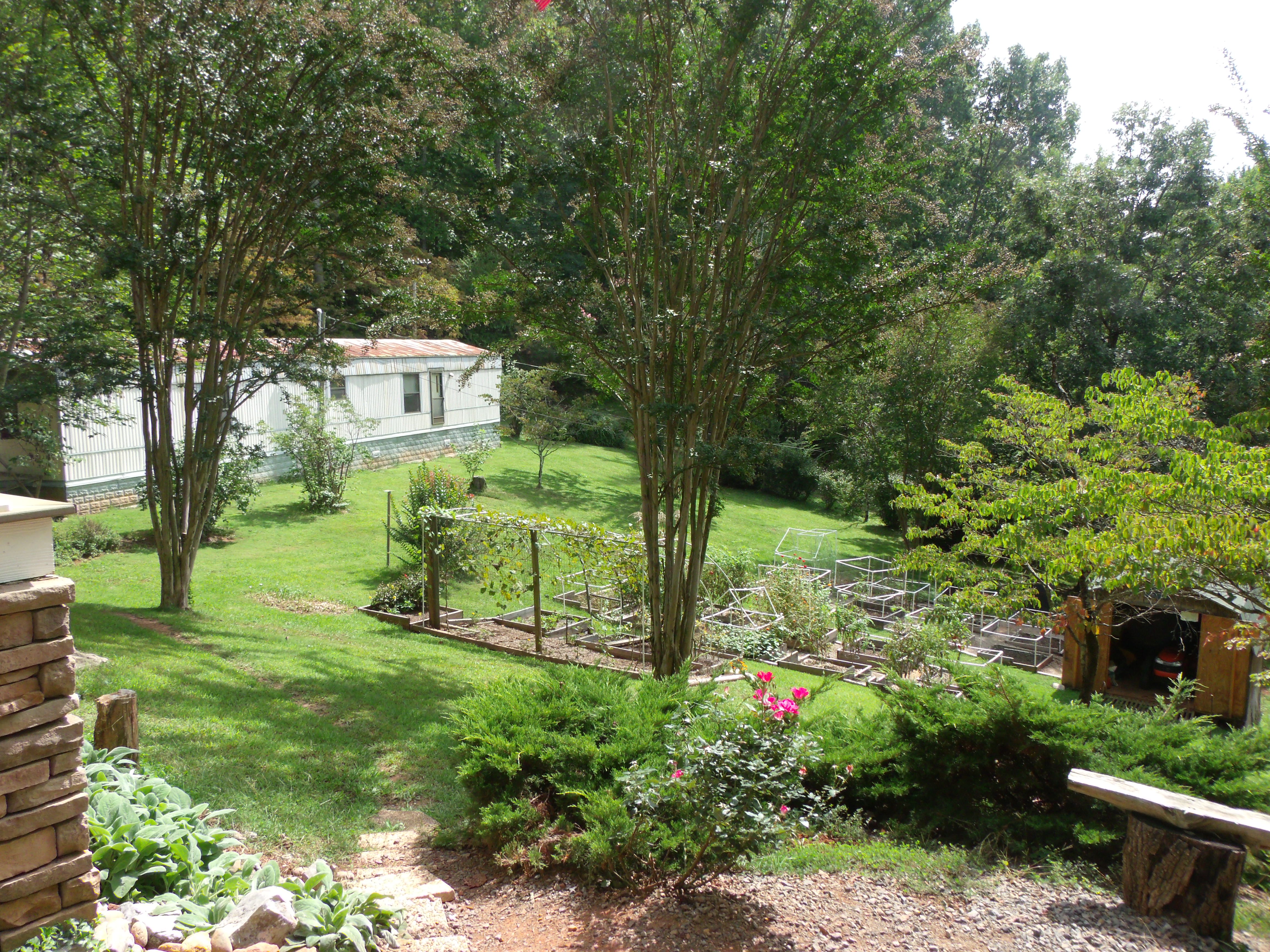 Part of this space is taken up by my garden, but there is still lots and lots of open space for several dogs to run and play at one time. Gardening takes up the majority of most mornings – after feeding and a 30 minute structured play/training time.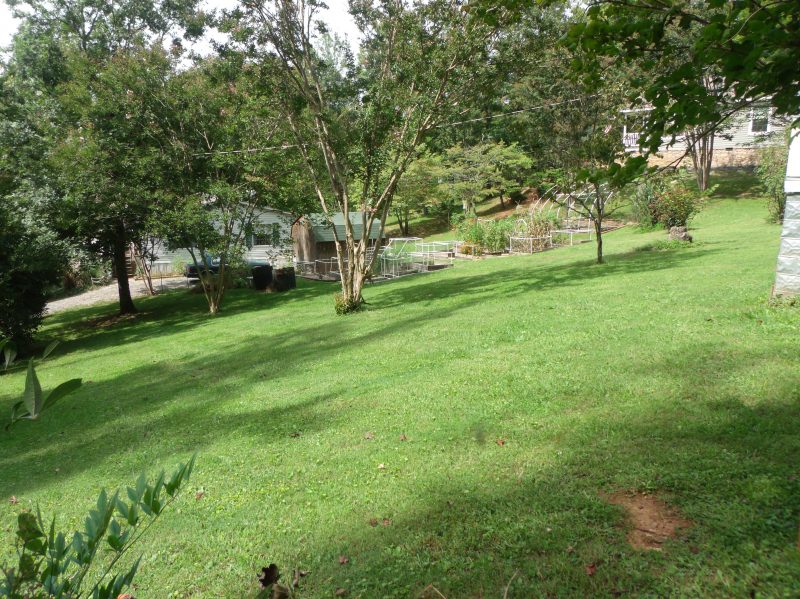 Well behaved foster dogs could be allowed to play longer in this area while I tend to the gardening. It would also be a more pleasant place for them to lounge for the afternoon exercise break and give us more room to work with dogs independently during the evening play time.
Our thought is to run the fence from our house down just down-hill of the barn to the hedgerow that runs along side the driveway. Then up beside the hedgerow to the top, turn the corner and go over to the front of the workshop/trailer.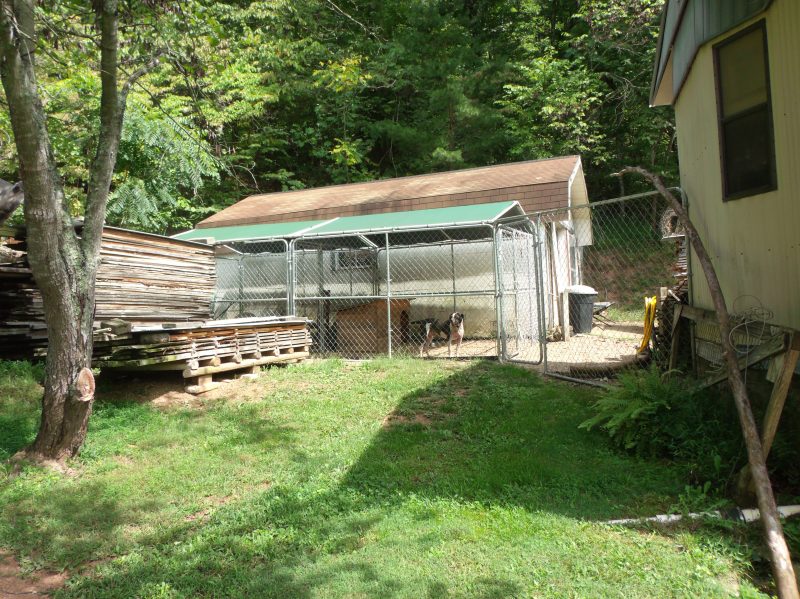 From the back side of the pens, a fence would run to the back of our house, fully enclosing this side yard with a sturdy chain-link fence.
This much larger space also offers easy access from both the dog pens and from our home. More space to run, much nicer grass to play in, far less mud. By moving the play yard out here we can install more pens where the old play yard is. All we need to do is fence in this space with a proper, dog-proof fence.
So, what's the problem?
Money!
We have a price from a reputable fence installer. We are willing to dedicate our savings account to this project, but we are $2,000 short of the total cost. We could take out a home improvement loan, but we have worked hard to get to where we are debt free (except our mortgage) and would prefer to stay that way. So we thought we might appeal to our fostering friends to see if any are willing to help provide the dogs with a better place to play and open up space for increasing our capacity next year.
What is Involved?
We're looking at:
300 feet of 5 ft high, 11 gauge galvanized chain link fencing.
19 terminal posts set in concrete, with hardware.
Support posts set in concrete collars and spaced no more than 10′ apart (less were terrain demands).
3 custom welded gates 5′ wide with angles matched to the slope of the ground. Added 1 std. rectangular gate (10/03).
1 custom welded gate 8′ wide with angles matched to the slope of the ground.
1 3/8″ Rail along the top of the fence, heavy tension wire along the bottom and wired to the fencing.
Filling dips with rock and dirt where fence cannot be made to follow the ground contour.
All professionally installed and guaranteed.
We would like to get this project done before the weather turns bad. We have considered buying the materials and doing it ourselves to save cost, but because of several factors (including time) that is not a practical option.
Would You Like to Help?
In the past some of our dog fostering friends who appreciate the work we do have asked if we needed help with anything. At the time, we did not. Now we would very much appreciate some assistance in getting this done before winter. Any amount will help.
In the interest of honesty, we are not a 501(c)(3) organization, in fact we are not officially an organization at all. It's just Doug and Marie Bittinger. We receive no funding from outside sources. We are not paid for our efforts – we are volunteers for The Dr. Carol Hood Memorial Animal Shelter's Foster Dog program. We are investing our own money to do this, but we lack $2,000.
For more information, please e-mail us at DougnMarie@comcast.net.
To help, send a check to: Marie Bittinger, 1198 Piney Mountain Rd., Newport TN 37821, or use this button to pay with a credit/debit card via PayPal.
| | | | | |
| --- | --- | --- | --- | --- |
| DATE | | PLEDGED | | RECEIVED | | TOTAL | | Notes: |
| 09/28/14 | $500 | $500 | $500 | | Anonymous |
| 09/29/14 | $300 | $400 | $900 | | A friend to doggies |
| 10/01/14 | $400 | $400 | $1,300 | | S.M.H. |
| 10/01/14 | $??? | $100 | $1,400 | | A former foster |
| 10/02/14 | | $700 | $2,100 | | Richard B. |
NOTE: Since we achieved our goal for this project, any further donations will be saved and put toward the purchase of a pen, roof, igloo style dog house, food & water bowls and pea gravel for the flooring – average cost: $600 per unit (incl. sales tax).
DONE! I've posted an article about the completed project.
---
| | | |
| --- | --- | --- |
| | If you enjoy our updates, Doggy Tales, and educational articles consider subscribing for notices when new pieces are posted. It's painless and you can unsubscribe any time you want. Your e-mail address is used ONLY to deliver these notices. | |