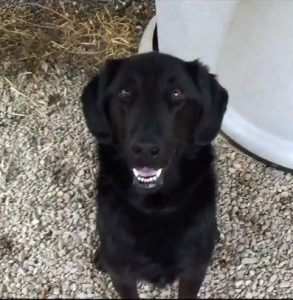 One of our recent foster dogs: Kingsley, wrote "home" to tell us of his latest adventure.
HI all … It's me Kingsley and I had such an exciting day … About a week ago NBC called FOWA Rescue to ask if I wanted to have a part in an episode of their new series "Unraveled" … so of course they said yes. So my foster mom Diane and my friend Shirley were there to watch me perform … Everyone said I was a natural … and everyone on the set was so nice to me …. Watch for when it premieres in the fall on the Investigation Discovery channel … I am not going to give the story away but this is me and the actors who played my family …It was a great day … lots of treats and attention … Not to shabby for a heartworm positive black dog from the south … Don't worry Jen , Brandy and Doug I am still the same sweet dog you knew when you saved me… and I am forever grateful you fought so hard to keep me alive …
Love and Licks – Kingsley
We knew him when
Kingsley came to us as a heartworm positive rescue dog from the Dr. Carol Hood Memorial Animal Shelter in Newport Tennessee for treatment of his condition and some behavioral training: he was excitable and unruly. He quickly became a favorite here because of his abundance of personality.
He came through his treatment well, went through the housebreaking process and ended up a house dog living with us in our home. After his recovery he was accepted by and transported to FOWA Rescue in New Jersey and placed with Diane Durynski Kopcha as a foster home while they searched for a forever home for him.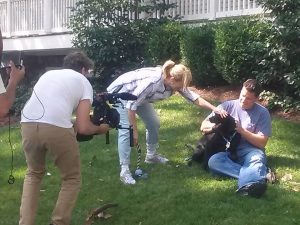 Details from Dianne, his N.J. foster mom, went something like this: Diane had taken him to a Pet Adoption Days event. A talent scout for NBC happened to be there hoping to find a diamond in the rough for an upcoming TV series they were planning. He was very impressed with Kingsley's mannerism, personality, and good looks. The TV station got in touch with FOWA and they set up a full day of shooting scenes in which he would appear.
He did very well and everyone was impressed by him.
But the best news was that earlier that same week, Kingsley was adopted! His new family needed to get some things done before he arrived, but he has a home – and they have a star!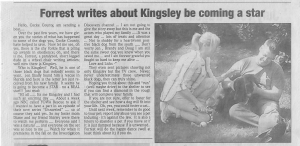 He's become a sensation on Facebook, and even made the local newspaper (July 27th Newport Plain talk, page 3A).
It just goes to show you: NEVER count a shelter dog as hopeless. There is so much love and talent sitting in your local shelter, won't you go see what they have to offer you?
---
| | | |
| --- | --- | --- |
| | If you enjoy our updates, Doggy Tales, and educational articles consider subscribing for notices when new pieces are posted. It's painless and you can unsubscribe any time you want. Your e-mail address is used ONLY to deliver these notices. | |